Gabby Barker (Shoshone-Paiute) finishes 17th overall as Texas Tech Finishes Fifth to Advance to NCAA Championships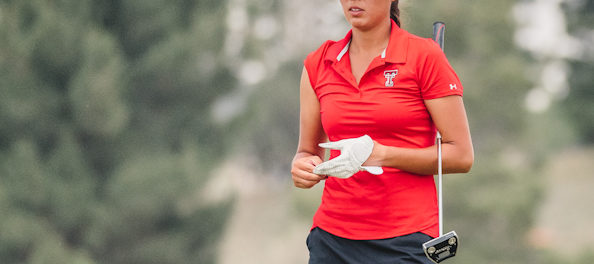 LUBBOCK, Texas – Texas Tech clinched its third NCAA Championships bid in program history Wednesday as the Lady Raiders defended their home facility by finishing fifth at the NCAA Lubbock Regionals held at The Rawls Course.
For the second-straight day, it was consistency throughout the lineup that propelled the Lady Raiders to their second NCAA Championships appearance in the last three years. All five of Tech's players shot 2-over or better en route to a 3-over 291 final round card that pushed the Lady Raiders to 9-over 873 for the tournament.
"I've kept saying that we haven't played our best golf yet, and I think this week we finally played our best golf at the time where we needed to the most," Tech head coach JoJo Robertson said. "I'm really proud of our team for how they played this week and we're excited to be heading back to nationals."
Tech benefited from 10 birdies on the front nine – its most during that stretch all week – as the Lady Raiders headed to the No. 10 tee at 3-under overall. Tech had three of its birdies on the par-5 9th alone as Gabby Barker, Cara Barker and Mami Yamamoto all sank difficult putts.
The solid front nine provided Tech with plenty of cushion heading into the always-challenging back nine. Tech finished 8-over over the final nine holes as a team but still managed to close the round two strokes better than sixth-place Kent State and four in front of Oregon State in seventh.
"We're excited to go to nationals," said junior Lauren Mason, who will miss Texas Tech's commencement exercises next weekend in order to play in the NCAA Championships. "We've been working towards this all year. Gabby and I are excited to be going back for a second time, and we're prepared more than ever."
Gabby Barker (Shoshone-Paiute) and Mason led the Lady Raiders with even-par 72 rounds while Mami Yamamoto was one stroke back at 1-over. Cara Barker and Sofia Garcia both added 2-over cards for Tech's second-lowest score of the tournament.
Garcia and Gabby Barker both posted top-20 finishes as they closed the tournament tied for 17th individually at 2-over while Yamamoto was one stroke back in a tie for 23rd overall. Mason played the final 36 holes at 2-under overall to finish in a tie for 32nd overall at 6-over for the tournament with Cara Barker trailing her by just a stroke in a tie for 38th individually.
Arizona State ran away with the regional crown as the Sun Devils used a 16-under final round to conclude the tournament at 22-under, which was 21 strokes better than second place Furman. Oregon and Texas joined Tech and Kent State as advancing teams after placing third and fourth, respectively.
Tech will officially tee off at the NCAA Championships on May 19 to start three days of stroke play. The top eight teams will then advance to match play – a format Tech participated in just two years ago – where a national champion will be named. The NCAA Championships run May 19-24 at Rich Harvest Farms in Sugar Grove Illinois, just outside Chicago.