Elliott Barzilli (Nooksack Tribe) and TCU sweep Missouri State in the Super Regionals to advance to College World Series in Omaha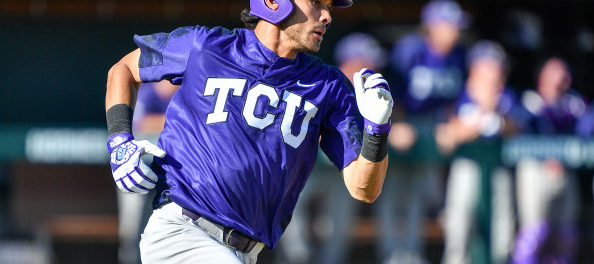 FORT WORTH – No. 5 TCU rode a dominating performance on the mound from Brian Howard and home runs from Evan Skoug and Elliott Barzilli (Nooksack Tribe) to an 8-1 victory over Missouri State Sunday night. The win punched TCU's ticket to Omaha for the fourth consecutive year.
The Rundown
Brian Howard (11-3) was at his postseason best once again for the Horned Frogs. After allowing a lead-off home run in the bottom of the first, he held the vaunted Missouri State offense in check. On the night, he surrendered just four hits, walked two and struck out 11.
TCU spotted Howard with a run in the top of the first on two out single from Cam Warner that plated Zach Humphreys. The freshman singled with one out and moved to third with head's up base running on a ground out.
After Missouri State tied the game in the bottom of the first, TCU struck back in the second to regain a lead it would never relinquish. Nolan Brown reached on an infield single to open the inning and scored from first on an Elliott Barzilli double.
Evan Skoug gave the Frogs breathing room with a two-run home run in the third inning. He drew a bases-loaded walk in the sixth to push the lead to four, 5-1. Barzilli's three-run blast in the ninth put the exclamation point on the victory.
Sean Wymer came on in relief with a runner on and one out in the eighth. He struck out four of the five batters he faced.
Stat of the Game
4 – TCU is making its fourth straight trip to the College World Series. The Horned Frogs are the first team since North Carolina accomplished the feat from 2006-09 to go four consecutive years.
Notes:
• TCU will be making its fifth appearance in the College World Series.
• TCU improved to 51-34 all-time in NCAA Tournament play.
• TCU swept a Super Regional for the first time in program history.
• TCU is 6-2 all-time in Super Regional games played at Lupton Stadium.
• TCU is 11-8 all-time in NCAA Super Regional games.
• TCU has scored multiple runs in an inning 98 times this season.
• TCU pitchers tallied double-digit strikeouts for the 27th time this season.
• Elliott Barzilli notched his 13th multi-hit game of the season and the 55th of his career.
• Barzilli hit his sixth home run of the season and the 17th of his career.
• Barzilli collected his sixth multi-RBI game of the year and the 29th of his career.