Dwuan Anderson (Grand Traverse Tribe) Scores 13 as Wagner Seahawks' get 76-62 Victory Over UMass Lowell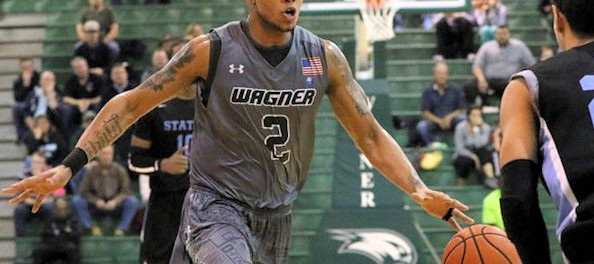 Staten Island, NY – Behind a balanced scoring effort, in which four players finished in double-figures, the Wagner men's basketball team remained perfect at home, running past UMass Lowell 76-62 tonight at the Spiro Sports Center.
With the victory, the Green & White concludes its non-conference schedule with a 7-4 mark while running their home record to a perfect 5-0.  The River Hawks fall to 4-9 on the season.
Wagner, which is now 34-11 at home under fourth-year head coach Bashir Mason, was paced by sophomore guard Corey Henson, who finished with a game-high 16 points while shooting a perfect 6-of-6 from the field and 3-of-3 from three-point range.  Henson also dished out five assists in the process.
Redshirt senior guard Dwaun Anderson (Suttons Bay, MI/Grand Traverse Tribe) and junior guard Michael Carey each added 13 points with Carey posting his third double-double of the year, grabbing 13 caroms, which tied his career-best.   
Graduate forward Henry Brooks tallied a season-high 11 points on 4-of-7 shooting while grabbing six rebounds, which also marks a season-best for the 6-8 forward.
The River Hawks were led by Matt Harris' 15-point performance while teammate Jahad Thomas added 13 points on a perfect 6-of-6 shooting night from the field, in addition to corralling a team-high seven rebounds.
After falling behind 7-0 at the outset of the game, the Seahawks went on a 16-4 run over a near 10-minute stretch as the Seahawks took a 16-11 lead following a Brooks jumper off the feed from Henson. During this span, Wagner's defense held UMass Lowell to just 2-of-6 shooting while forcing seven turnovers.  Wagner's largest lead of the opening was six, 27-21, after Carey made a pair of free throws with 1:38 to go before the intermission.
Over the first seven minutes of the second half, Wagner outscored UMass Lowell, 15-11, to take a 43-36 lead. The River Hawks were able to trim Wagner's lead to just three, 48-45, after Harris knocked down a top-of-the-key three-pointer off a feed from Josh Gantz. Wagner was able to regain its composure and outscore the River Hawks, 28-17, over the final 9:48 in pulling away for the 14-point win.
The Seahawks shot 54.3 percent from the field while converting on 45.5 percent from three-point range.  The Green & White outrebounded UMass Lowell, 32-21. Importantly, Wagner held the River Hawks off the offensive glass in the first half, not allowing the visitors a single offensive carom in the opening stanza.