Dominique Golightly's (Kiowa) 24 points were a single-game career high as ACU Falls Short to Arkansas, 79-65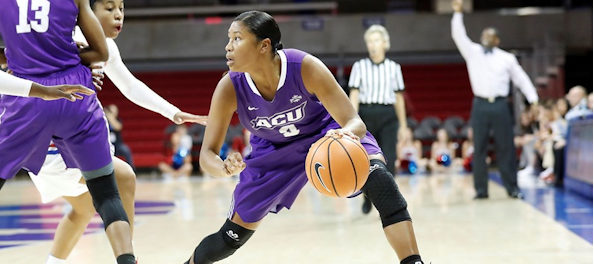 FAYETTEVILLE, Ark. – Abilene Christian women's basketball trimmed a 15-point third-quarter deficit all the way down to three, but Arkansas' offensive outburst to begin the fourth quarter was too much for the Wildcats to handle in their 79-65 loss Wednesday night at Bud Walton Arena.
The loss dropped ACU's season record to 3-2, while the Razorbacks – which made six straight fourth-quarter field goals as part of a 20-0 run – improved to 4-2.
Arkansas held a 34-24 lead at the break only to watch the Wildcats and sophomore guard Dominique Golightly (Kiowa Tribe) spark a 7-0 run to begin the third quarter. Golightly, who led the Wildcats tonight with 24 points on 8-20 shooting (7-15, 3-pointers), scored the first two baskets of the half followed by a tip-in by senior center Taudenciah Oluoch (nine points) that made it a 3-point game (34-31) at the 8:01 mark.
This spurt forced Arkansas to burn a timeout, and coming out of the break the Razorbacks responded with a 12-0 run on 4-of-4 shooting that lasted less than two minutes.
But soon afterward the Razorbacks lost their touch and the Wildcats crept back into the game thanks to a 12-0 run of their own. A block by sophomore center Lexi Kirgan (six points) led to a trey from junior guard Sara Williamson (five points), and freshman post Makayla Mabry (11 points) then converted a three-point play to pull the Wildcats to within single digits at 46-39.
A second block by Kirgan was followed by a technical foul called on the Arkansas bench, and after Golightly missed her second free throw she got the ball back on the ensuing possession and hit a trey to make it 46-43.
Arkansas finally broke its scoring drought at the 1:46 mark on a layup by Malica Monk (15 points), and a 3-pointer from Jailyn Mason (13 points) at the buzzer put the Razorbacks up 54-47 to conclude an insane third quarter during which ACU outscored the opposition, 23-20. Mason's trey came seconds after Williamson sank a layup with five seconds remaining, and was one of nine made by Arkansas in the second half after starting the game 1-for-9.
The fourth quarter started in the Wildcats' favor with Golightly knocking down another 3-pointer on their first possession (54-50), but this tug-of-war soon turned into a rout as Arkansas put the Wildcats away with a 20-0 run. The Razorbacks drained four treys during this stretch and added four free throws in taking a 74-50 lead.
Arkansas made only two field goals in the final five minutes with the game out of reach. Golightly, however, continued to shoot well from beyond the arc in hitting three additional 3-pointers. Mabry also chipped in six of her 11 points down the stretch.
Golightly's 24 points were a single-game career high as were her seven 3-pointers. She also missed a double-double by two rebounds.
Arkansas had five players score in double figures led by Monk and Raven Northcross-Baker, each of who finished with 15 points. Mason dished out eight assists to go with 13 points, and Kiara Williams scored a dozen in addition to a team-high eight rebounds.
Both teams struggled offensively heading into halftime. Arkansas experienced a significant field-goal drought in the second quarter that lasted six minutes and would have entered halftime leading by single digits if not for eight free throws.
The Wildcats, however, helped the home team by missing four of six second-quarter free throw attempts, and received their last field goal (Oluoch layup) of the half with 3:16 remaining.
Turnovers also were an issue for ACU in the first half, but Arkansas hardly capitalized as those 13 miscues resulted in eight points. By game's end, however, the Razorbacks finished with 28 points off 20 turnovers.
The Wildcats return to action Sunday at 2 p.m. vs. Florida Gulf Coast. The Eagles (5-1) are ranked fourth in this week's CollegeInsider.com Mid Major Top 25 and receiving one point in the USA TODAY Sports NCAA Division I Top 25 Coaches' Poll.