Dominique Golightly (Kiowa Tribe) Scores 12 Points for Abilene Christian who dominate Schreiner, 97-48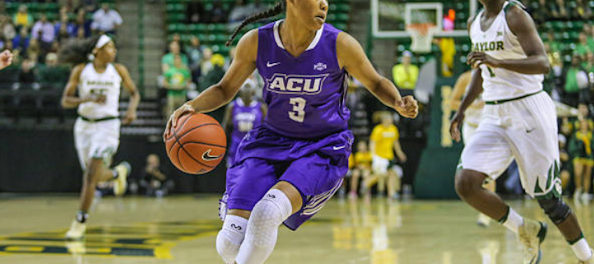 ABILENE – Junior guard Sara Williamson scored a career-high 23 points and freshman Alyssa Adams registered a 10-point / 10-rebound double-double off the bench in helping Abilene Christian women's basketball post a stellar 97-48 victory over Schreiner Monday night at Moody Coliseum.
The Wildcats improved to 2-0 with the victory, however, Schreiner – a D3 school based in Kerrville, Texas – treated tonight's contest as an exhibition.
Williamson's night also included five assists and five steals as she was one of five Wildcats to reach double-figures for the second straight game. Adams chipped in 10 points through 16 minutes of action, while senior Sierra Allen totaled 11 on 5-of-6 shooting. Senior Taudenciah Oluoch and sophomore Dominique Golightly (Kiowa Tribe) each registered a dozen points.
Oluoch, who was making her first career start tonight, hit 5-of-10 field goals and two free throws.
Sophomore Breanna Wright was the lone Wildcat starter in single-digit scoring, but she dished out a team-high six assists, pulled down 10 rebounds, and intercepted two passes as the Wildcats totaled 21 points off turnovers.
ACU also was tremendous down low, outscoring the Mountaineers in the paint, 54-6, and put up a 28-11 advantage in second-chance points. The Wildcats outrebounded the visitors, 66-30.
Despite the runaway score, it was the Mountaineers who held several leads in the first quarter thanks to 5-of-9 3-point shooting. And it was their fourth 3-pointer at the 5:42 mark from Hannah Blair that gave them their largest lead of evening at 12-5.
ACU responded with an 8-0 run that moved it into the lead for the first time all game, and after Schreiner went ahead once more on a trey by Kailey Caldwell, the Wildcats completed the opening quarter with four consecutive free throws by newcomers Adams and Josie Larson (8 points, 3 rebounds).
Schreiner dropped in one last free throw at the end of the first quarter to make it a 17-16 game, but the Wildcats' offense came out on fire after the break, jumping out to a 10-point lead in less than two minutes.
Williamson made three of the Wildcats' first four field goals of the second quarter with her layup at the 8:13 mark giving ACU its first double-digit lead at 26-16.
The Wildcats soon pushed their lead to 15 at the media timeout and went into the locker room up 18 at 48-30 behind their 31-point, second-quarter effort. ACU made 14-of-26 field goals and was 3-of-8 from the 3-point line during this pivotal 10-minute stretch.
ACU was even more dominant during the third quarter in which it outscored the Mountaineers, 29-6, and again shot well above 50 percent from the floor (.571). In fact, Schreiner didn't score their first points of the quarter until the 4:51 mark – a 3-pointer by Danielle Cain.
The Wildcats wouldn't let the Mountaineers get much closer and its back-to-back treys from freshman Laura Rowe (6 points) and Allen gave the home team its first 40-point lead with 1:27 left in the third.
A trey from Larson with 1:49 to go in the game gave the Wildcats a 50-point lead at 94-44, and on the ensuing possession their defense forced Schreiner into its 18th and final turnover.
The Wildcats finished the game shooting 47.5 percent from the floor (38-80) and were 10-31 from 3-point range. By comparison, the Mountaineers – led by Alina Hilliard's 14 points – shot just 23 percent (14-61) after missing 33 of 42 shots over the final 30 minutes.
ACU returns to action Saturday at 2 p.m. vs. Idaho. The Wildcats defeated the Vandals on their home court in Moscow, Idaho during December of 2015.