Dominique Golightly (Kiowa) has 16 point 10 rebound double-double for Abilene Christian in 88-46 triumph over Howard Payne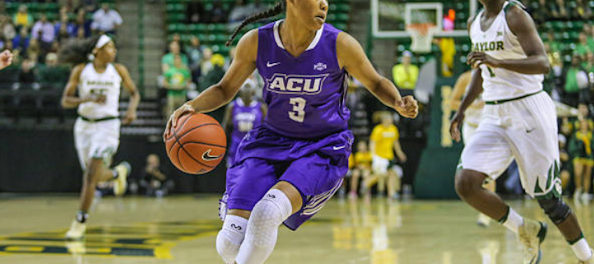 ABILENE – Abilene Christian women's basketball snapped a season-long three-game losing streak Saturday with an 88-46 triumph over Howard Payne at Moody Coliseum.
The Wildcats improved to 4-3 on the season, while the Yellow Jackets dropped to 3-5. Three of HPU's defeats have come against the Southland Conference as it previously lost to Stephen F. Austin and Lamar.
ACU led its Christmas Slam game from wire-to-wire, receiving a 16-point / 10-rebound double-double from sophomore Dominique Golightly (Kiowa Tribe) and a career-high 25 points from junior Sara Williamson. Freshmen Kayla Galindo (10) and Josie Larson (10) also reached double figures in scoring as ACU outscored the opposition 45-17 in the second half.
The Wildcats shot just below 50 percent for the game (33-68, .485), and were solid all day from 3-point range (10-31, .323) and free-throw line (12-14, .857).
The defense, meanwhile, limited HPU to .283 shooting (17-60) as the Yellow Jackets connected on only one of 17 3-point attempts (.059).
Galindo, in making her first career start, totaled 22 minutes and connected on half of her eight field goal attempts – two of which were long-distance buckets. She also dished out six assists to tie her career high and pulled down five rebounds.
Golightly's effort included four 3-point bombs on 6-of-12 shooting, and a career high four blocks to go along with two assists and two steals. Her rebound total was one shy of matching her career high from earlier in the season.
As for Williamson, she has now reached double figures in scoring four times this fall. Her 8-13 performance from the floor – which included two treys and several slashing layups to the rim – accompanied a 7-8 outing from the charity stripe. Her 25 points were two more than her previous high of 23 set Nov. 13 vs. Schreiner.
Larson's 10 points came on 4-8 shooting and two 3-pointers. She also was credited with a block and steal.
ACU won each of the four quarters and entered halftime up 43-29 (+14). The Wildcats pushed their lead past 20 points for the first time on a Breanna Wright (6 points, 7 assists) layup at the 5:38 mark of the third quarter, and enjoyed a 31-point advantage with 6:57 to go in regulation after Williamson sank a pair of free throws.
The defense surrendered just six points (3-18) in the fourth quarter with two of three HPU field goals coming in the final three minutes.
Valarie Matlock paced the Yellow Jackets with nine points, while Anastasia Willis was their leading rebounder with eight.
ACU forced the visitors into 25 turnovers, which resulted in 26 points. The home team additionally netted 44 points in the paint, scored 17 off as many offensive rebounds, and received 31 from its bench.
Sophomore Pamela Herrera enjoyed a quality game off the bench, scoring five points in 22 minutes with career highs in steals (4) and assists (4).
The Wildcats are off next week for exams and will conclude their two-game homestand next Saturday with a 2 p.m. game vs. their old Lone Star Conference rivals from Midwestern State. ACU leads its all-time series vs. the Mustangs, 37-22, and today's win gave the Wildcats a 25-4 series advantage over Howard Payne.