Devin Buffalo (Cree Nation) is one of just 11 Hockey athletes from across the nation to be named a nominee for the 2018 Hockey Humanitarian Award, presented annually to college hockey's finest citizen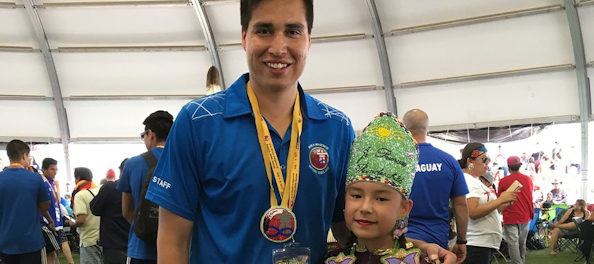 MINNEAPOLIS – Eleven student-athletes from across all levels of college hockey were announced Tuesday afternoon as the nominees for the 2018 Hockey Humanitarian Award, which included Dartmouth men's hockey senior goalie Devin Buffalo.
The Hockey Humanitarian Award Foundation presents this honor annually to college hockey's finest citizen — a student-athlete who makes significant contributions not only to his or her team, but also to the community-at-large through leadership in volunteerism.
Buffalo — born on Samson Cree Nation, Maskwacis — calls Wetaskiwin, Alberta home.
The Dartmouth netminder was recognized for his involvement within his home community, volunteering with the three levels of the Indigenous Games across Canada this past summer.
The senior netminder has been heavily involved in giving back to his community when not at Dartmouth pursuing his degree in government. The summer of 2017 saw Buffalo work the World Indigenous Games on the Treaty 6 Territory in Alberta after having also volunteered his time at the North American Indigenous Games in Toronto in July.
Buffalo capped his summer in August, serving as an event coordinator for ball hockey at the Alberta Indigenous Games in Edmonton.
It's not the first time that Buffalo has tried to be a role model for First Nations youth, working at hockey camps on reservations at home during his summer breaks. There, he serves as both a coach and mentor for those looking to follow his footsteps to college hockey.
During his time in juniors, and before coming to Hanover, he was part of a school mentorship program, helping troubled youth, spending time and providing guidance, while helping them with school
work.
While at Dartmouth, Buffalo has been heavily involved in the team's relationship with Go Team Impact as well as the annual toy drive and subsequent visit to the Children's Hospital at Dartmouth-Hitchcock (CHaD) Medical Center.
"I could not be more proud of Devin's development and resilience shown here," head coach Bob Gaudet '81 said. "He waited for his time, learning the college game behind two older netminders and used that period to mature and develop into a good Division I goalie.
"He has tremendous leadership traits and has been an inspiration to his teammates and coaches," Gaudet continued. "It's evident to anyone who has met 'Buff' how much he cares about those around him."
Finalists for the Hockey Humanitarian Award will be announced in February. The 2018 recipient will be honored in a ceremony on Friday, April 6 as part of the NCAA Men's Frozen Four weekend in St. Paul, Minnesota.