Derek Willis (Arapho) scores five points and Bronson Koenig (HoChunk) scores eight points in Portsmouth Invitational debut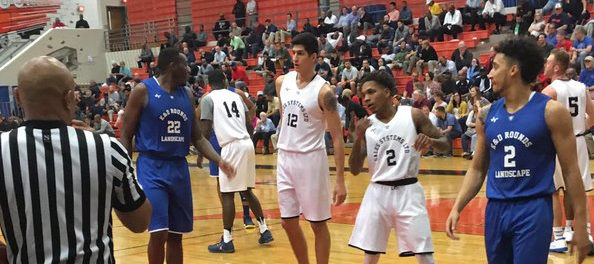 (Portsmouth, VA) – Former University of Kentucky basketball player Derek Willis (Arapaho)scored five points and grabbed four rebounds in his first game in the Portsmouth Invitational on Thursday night.
Willis' Sales Systems team won 87-86 over K&D Rounds, but it probably wasn't the debut the UK senior had hoped for in the NBA tryout camp. Willis started and played 17 minutes. He shot 2-for-7 from the field, including 1-for-2 from three-point range.
On the other side of the court in the same No. 12 jersey number as Willis was Bronson Koening (Ho-Chunk Nation), a former Wisconsin Badger, who fared a little better by dropping 8 points for the K&D Rounds team. He also had a team high of 5 assists and played 23 minutes & was 4-for-9 from the field.
Next up for Koenig is a Friday, April 14th, 3:15 PM EST game versus Mike Durman Auto Sales.
Willis will play in a later game again on Friday, April 14th as well, at 9:00 PM EST versus Roger Brown's.