DeLeon and Richard rip it up on day one of Lakota Nation Invitational; Lady Thorpes impressive in rout of Flandreau Indian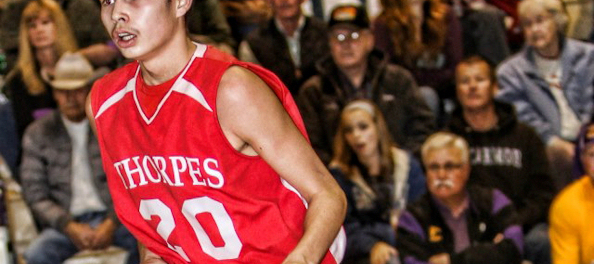 By Rich Winter
With the Pine Ridge boys not playing a game prior to Lakota Nation, and a host of graduation losses from a team that went to state a year ago, many people, self included, were anxious to see the new look Thorpes.
Same old Thorpes as Pine Ridge used a balanced scoring attack led by Perez DeLeon and Mike Brave who combined to score 29 points as the Thorpes prevailed, 62-56.
The Thorpes trailed 28-26 at intermission but tightened the clamps in the second half, outscoring Tiospa Zina, 36-28 the rest of the way.
Box score:
Tiospa Zina 28 28 56
Pine Ridge 26 36 62
Scoring Summary:
Jesse Pulliam 2, Perez DeLeon 15, Terry Thomas 10, KeIon Clements 9, Mike Brave 14, John Ladeaux 2, Walter Corunoyer 4, Greg Brewer 6
Pine Ridge squares off against White River tonight
Lady Thorpes impressive in rout of Flandreau Indian
Shaylene Richard and Cortez Standing Bear, pictured here (Photo courtesy of Lakota Country Times), propelled Pine Ridge into the quarters with a dominant win over Flandreua Indian.
Some great shooting performances on day one of the Lakota Nation Invitational and no tandem shot it better than Cortez Standing Bear (7-7) and Shaylene Richard (9-12). Standing Bear poured in 15 points and Richard tossed in 20 as Pine Ridge rolled over Flandreau Indian 62-19
Scoring summary: Terri Dawn Pourier 2, Mircle Spotted Bear 8, JoBeth Morrisette 9, Lynette Bettelyoun 3, Tashianna Hernandez 2, Kayla Bravo 2, Shaylene Richard 20, Cortez Standing Bear 15, Shyann Grey Grass 2.
Pine Ridge gets Oelrich's today. The Tigers defeated St. Francis 59-57 last night.