DeForest Carter recorded 18 points, seven assists, six rebounds and four steals in Tuesday's Win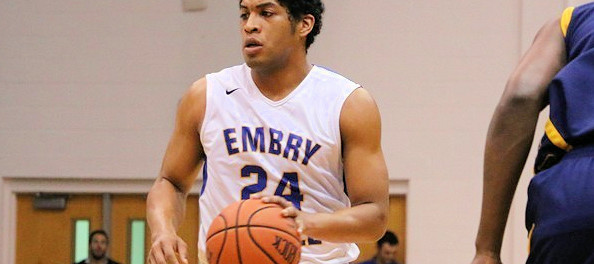 DAYTONA BEACH, Fla . – The second-ranked Embry-Riddle men's basketball team led by 19 at the half and as many as 40 in the second half en route to a convincing 94-70 victory over the visiting Thomas Night Hawks. The Blue and Gold avenged its only defeat of the 2014-15 season with authority, leading for 38:54 of the 40-minute contest and not trailing at any point.
With the win, ERAU improves to 27-1 overall and 15-1 in conference play, while TU falls to 18-9, 9-8 in league action.
DeForest Carter (Seminole Tribe of Florida) led ERAU with 18 points and six rebounds to go along with a game-high seven assists and four steals. Reed Ridder contributed 16 points and three assists while Joseph Gonzalezadded 13 points on 4-of-5 shooting in 15 minutes.
Marcus Humose scored a game-high 28 points on 11-of-19 shooting to lead the Night Hawks, while Alan Love tallied nine points and a game-high eight boards.
The Eagles shot 60 percent (33-of-55) from the floor including 43.8 percent (14-32) from behind the arc, while Thomas shot 42.6 percent overall (26-of-61) and 26.7 percent from three (4-of-15). Embry-Riddle moved the ball well on offense, recording 24 assists against 15 turnovers.
Carter scored the first points on a layup just over a minute into the game, and by the 16:26 mark the Eagles had already pushed the lead to double-digits at 12-2. Just past the halfway point of the first half, ERAU held a 21-6 lead and Thomas couldn't get within 10 points for the rest of the game. Carter closed out the period by scoring the final six points on back-to-back triples to make it a 42-23 game at halftime.
Less than two minutes into the second half the Eagle advantage crossed the 20-point threshold (46-25), and by the 15:21 mark it was up to 25 (55-30). A Ridder trey made it a 30-point game (62-32) with 13:29 left and a Gonzalez three capped a 25-4 run that pushed it to 40 (73-33) with 10:40 remaining. The Blue and Gold maintained a comfortable lead for the final 10 minutes, cruising to a 94-70 victory.
The Eagles host Florida Memorial in the final home regular season game on Thursday, Feb. 19 at 7:30 p.m. Prior to the contest, seniors Brandon Serle, Andy Schleitwiler, Jason Powell, DeForest Carter, Hudson Cadet and Cesar Pastrana will be honored.