Davion Jeffries (Mvskoke Creek) Earns 17-0 Technical Fall for Sooners in Win over Northern Colorado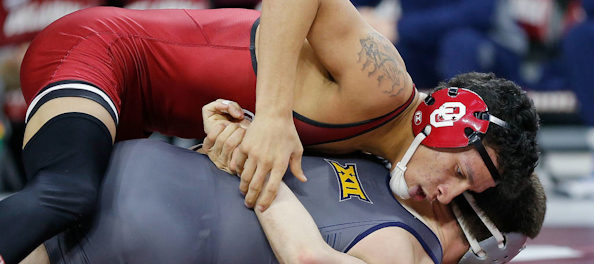 By Andie Beene
NORMAN – The Oklahoma wrestling team triumphed over Northern Colorado, 28-10, on Sunday afternoon inside Lloyd Noble Center as part of the Beauty and the Beast event with OU women's gymnastics.
The Sooners claimed seven bout victories in the dual, including a pin from Mike Longo (141 pounds) and technical fall wins from Christian Moody (125 pounds) and Davion Jeffries (149 pounds).
"I think that we did a better job at getting bonus points and being more aggressive and being solid," OU head coach Lou Rosselli said. "We had some issues with guys getting all over the place and finding out where they really are good. I think today they firmed up a little bit of their wrestling, and I think that they need to continue that. If you stay where you are really good and you keep focused and you keep trying to score points, I think a lot of good things happen for you."
Longo earned OU's first points with a win by fall at 141 pounds. The senior pinned Ben Polkowske in 2:47 to claim six Sooner points and record his fourth pin of the season.
Jeffries (Mvskoke Creek) built on OU's momentum in the 149-pound bout, downing Jimmy Fate by technical fall, 17-0. He opened the match with a takedown and three two-point nearfalls to jump out to an 8-0 lead in the first period. Jeffries added a reversal, a four-point nearfall and the riding time point to claim his second technical-fall win of the season.
At 157 pounds, Justin Thomas added three more points for the Sooners with a 10-4 decision over Tyler Kinn. He used a takedown and a two-point nearfall to take a 4-1 lead after the first frame. Thomas added an escape and a takedown in the second followed by another takedown and the riding-time point in the third.
No. 11 Yoanse Mejias claimed his 20th win of the season by downing Seth Bogulski in a 12-6 decision at 174 pounds. After building a 2-1 advantage in the first period, Mejias grew the lead to 7-3 in the second with an escape and two takedowns. He added three more takedowns in the final frame to secure the win.
Next weekend, the Sooners wrap up their homestand as they host Iowa State on Friday, Jan. 26 and South Dakota State on Sunday, Jan. 28.