Daranda Hinkey (Shoshone/Paiute) Scores 10 for Southern Oregon in a 78-70 defeat of The Master's (Calif.) on Saturday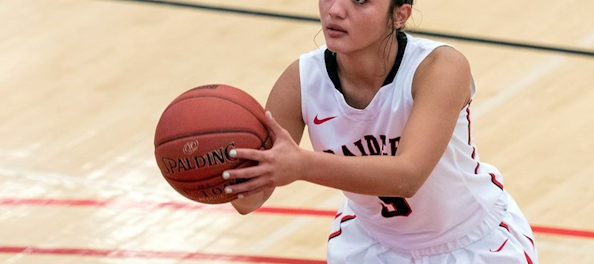 SANTA CLARITA, Calif. – Southern Oregon went on a 12-1 run in the fourth quarter to come from behind and complete a perfect pre-Cascade Conference slate with a 78-70 defeat of The Master's (Calif.) on Saturday afternoon.
The Mustangs (6-2) – ranked 18th at the NAIA Division I level – had a 58-55 lead on the No. 15 Raiders (7-0) before the game swung for good. The Raiders got Daranda Hinkey (Shoshone/Paiute) andToria Bradford jumpers and a Sdy'Nee Fryer 3-pointer on successive possessions to start the run, and Remi Mejia scored five straight of her team-high 24 points to finish it.
Mejia added five rebounds, a pair of steals and hit four 3-pointers. The senior guard went 10-of-20 from long range in the two-day Master's Classic and has scored 20-plus in three straight games.
She was joined in double figures by Ariel Augustine (13 points, 7 rebounds), Bradford (13 points, 4 assists, 4 rebounds) and Hinkey (10 points, 4 assists).
The Master's post Anika Neuman kept the Mustangs in it with 27 points on 11-of-14 shooting and eight rebounds. They faced their largest deficit at 48-36 in the third before ticking off an 18-5 run, getting eight points and a pair of triples from Brooke Bailey in the quarter.
The Mustangs finished with 24 turnovers to SOU's 15.
The Raiders start CCC play at Mountain Avenue Gym next Saturday against No. 7 Eastern Oregon, the conference's preseason favorite, and will turn around to play The College of Idaho on Sunday. Both games start at 4 p.m.