Daranda Hinkey (Paiute/Shoshone) had 13 points for Southern Oregon as the 15th-ranked Raiders bury Simpson (Calif.), 82-65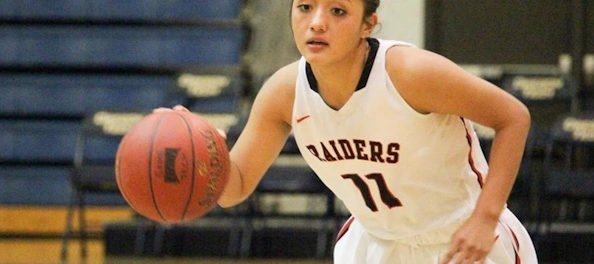 KLAMATH FALLS – The 15th-ranked Southern Oregon women's basketball team heated up just in time to bury Simpson (Calif.), 82-65, on Friday afternoon in the Lithia-Oregon Tech Classic.
Toria Bradford tallied 15 points and five assists, Daranda Hinkey (Paiute/Shoshone) had 13 points and three assists and the SOU point guards scored eight points apiece in the fourth quarter to break open what had been a 52-48 game when the period began, helping the Raiders (3-0) stay perfect on the season.
Within the first two minutes of the fourth, Casey Williams, Ariel Augustine and Bradford hit 3-pointers that extended the lead to 11. The Raiders had gone 2-of-19 from downtown in the second and third periods combined before closing the game with a 5-of-10 effort, and they shot 10-of-19 overall in the quarter to raise their shooting percentage to 37 (28-of-76).
As in their first two games, they found ways to keep the pressure on without hot shooting – accumulating advantages of 18-10 on the offensive glass and 26-13 in turnovers forced.
Augustine and Syd'Nee Fryer finished with 10 points apiece. Remi Mejia added eight points, five rebounds and three steals, while Williams, Kenadee Honaker and Sophia Altemus also had three steals apiece.
After closing the first half on a 9-0 run capped by a Grace Corbin jumper, SOU led 38-36 and was in front the rest of the way.
The Redhawks (2-5) shot 43 percent from the field (25-of-58), getting 11 points and six rebounds from Fallon Greenhaw and 10 points and nine boards from Madison Cox.