CooXooEii Black (N. Arapaho) posted his fifth double-double of the season with game highs of 18 points and 10 rebounds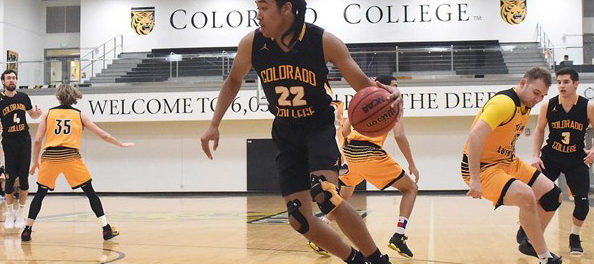 Colorado College connected on 19 of 20 free throws, including four in a row during the final 10 seconds, to record a crucial 70-64 victory at Southwestern University on Friday night.
The Tigers improved to 8-11 overall and 3-5 in the Southern Collegiate Athletic Conference. CC pulled to within a half game of Texas Lutheran University, which fell at home to the University of Dallas, 69-64.
Colorado College visits TLU tomorrow at 5:30 p.m. CT.
CooXooEii Black (Northern Arapaho) posted his fifth double-double of the season with game highs of 18 points and 10 rebounds. The sophomore forward went 6-for-11 from the floor and hit all six of his free throws, including a pair with four seconds remaining.
Senior guard Bobby Roth, who finished with eight points, hit a three-pointer with 2:37 remaining to give the Tigers a four-point cushion.
The Pirates cut their deficit in half when Luke Hicks hit a jumper with 1:19 to go, but they were unable to connect on their final two shots and CC made it a two-possession game when senior guard Eric Houska sank a pair of free throws with 10 seconds to go.
Houska went 7-for-7 at the charity stripe and finished with 14 points.
Despite picking up three fouls in the first half, senior winger Ryan Youngrecorded 12 points for the Tigers. Senior forward Chris Martin also reached double digits with 10 points and grabbed six rebounds.
Colorado College registered a 43-25 advantage on the glass and a 16-7 edge in second-chance points.
The Tigers built a 46-34 lead after Young dialed long distance with 14:03 to play in the second half, but Southwestern utilized an 18-5 run to take its only lead of the contest at 52-51.
Joel Martinez produced a team-leading 12 points for the Pirates, who slipped to 8-10 overall and 4-3 in the SCAC.
Ryan Wheeler added 11 points for Southwestern, while Hicks finished with 10.
The Pirates scored 25 points off of CC turnovers.