College of Saint Mary's Tyler Sumpter (Cheyenne/Arapaho) led all scorers with a game-high 24 points in 89-64 Win over Grace University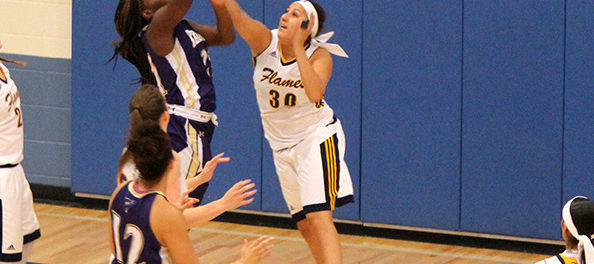 OMAHA, Neb. – College of Saint Mary scored a season-high 89 points Friday night in a dominating win over Grace University. The Flames won the nonconference contest 89-46.
"It was nice to come out and just play well," CSM Coach Jesse Flanagan said. "It was good to just have fun and see things happen out there that we've been envisioning happening."
The Flames took control from the start and led 23-6 after the opening quarter and 47-17 at the intermission. CSM then outscored Grace 19-14 in the third quarter and 23-15 in the fourth to secure the win – CSM's third of the season.
Flanagan said the best part of his squad's game Friday night was on the defensive end.
"Our defense really started us off," he said. "Size-wise we were able to switch every screen and be really aggressive. They had trouble adjusting. That defense then created easy offensive opportunities.
"Offensively we moved the ball around and players made plays. We were aggressive and took shots – did all the little things right. It was fun to see."
CSM's Tyler Sumpter (Cheyenne & Arapaho/Nixon, Nev.) led all scorers with a game-high 24 points and she also had three steals. Teammate Trista Merrival (Oglala-Lakota/Pine Ridge, S.D.) tossed in 14 points, while both Lynsey Curran (SO/Omaha, Neb.) and Keona Cadore (JR/Mims, Fla.) finished with 12 points. Amy Talavou (JR/Santa Ana, Calif.) had eight points and nine rebounds, while Lacey Knudsen (SR/Fairplay, Colo.) tallied a game-high 12 rebounds.
"Trista stepped up and did an outstanding job," Flanagan said. "She really took advantage of her opportunity.
"I also thought Amy was a big standout. We know she can score, but her discipline on the defensive end is where she really did a great job tonight."
The Flames (3-18 overall) have little time to enjoy the victory with Mount Marty College coming to town Saturday for a 2 p.m. game.
"We just need to come out tomorrow and play like we did tonight," Flanagan said.