Chris Eagle Bear is Falcon football player of the week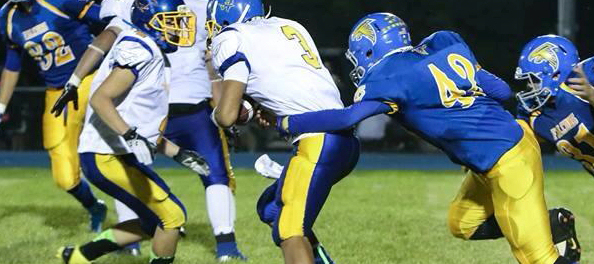 By Rich Winter
As the Todd County Falcons get ready to host the Red Cloud Crusaders tonight in a massive battle of 5-2 teams, must pay tribute to last week's Falcon Football Player of the Week.
Todd County junior, Chris Eaglebear just seems to get better every time he steps on the field.
In the Falcons 18-10 loss to Chamberlain last Friday, Eagle Bear made a heck of a defensive play to give his team some life when they weren't playing well.
Eagle Bear blocked a Chamberlain punt in the end-zone that resulted in a two-point safety that got the Falcons on the board. In addition to his safety play, Eagle Bear racked up ten tackles to help lead a Todd County defense that was close to helping the Falcons pick up their sixth win of the season.
"He's been making some steady progress for us," Bob Kornely, TCHS coach said. "As evidenced by the Chamberlain game he's really coming on for us defensively and he's been providing some good blocking for us from the tight-end position."
Todd County and Red Cloud, both 5-2 square off tonight in one of the better games in south-central South Dakota.