Cenia Hayes (Cherokee) led the RiverHawks with 11 points as NSU women nearly upend Missouri Western on the road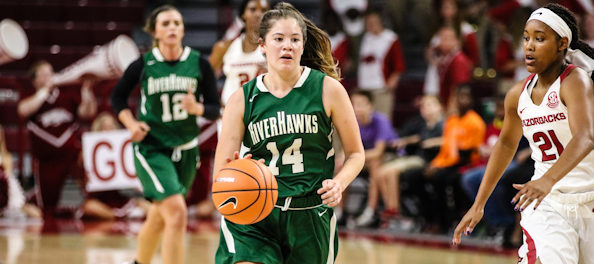 ST. JOSEPH, Mo. – NSU freshman Cenia Hayes (Cherokee Nation) had six big points down the home stretch in an 8-0 rally during the fourth quarter but they would come up short, 64-60, on Saturday at Missouri Western.
Hayes led the RiverHawks with 11 points and she had a team high seven rebounds. Alexis Hill had a perfect afternoon connecting on all four of her shots for nine points, and Destiny Strange scored nine with five boards.
NSU led for the better part of the second quarter and nearly all of the third before Missouri Western clipped the them on a 12-0 run in the final period; with 3:36 left on the clock the Griffons were ahead 59-50.
The tables flipped in the final minutes with the RiverHawks getting three defensive stops and scored eight points to get back into the contest with the Griffons.
Northeastern State tied the contest at 60 on a Cailyn Long layup with 37 seconds to go. Following a pair of free throws by the Griffons, NSU trailed by a pair with 14 seconds left with the ball their side of the court.  On inbound pass, NSU tried the drive into the lane to either get a bucket for draw a foul. Long would make contact with a Griffon player near the paint with the ball getting knocked out of bounds.  No call would be made on the contact by the officials and would be a turnover to spoil the RiverHawks afternoon.
Both teams mirrored each other on the floor with NSU holding a slight shooting advantage going 40.4-percent (21-for-52), and the Griffons were 37.7-percent (23-for-61).  The difference was on turnovers with MWSU forcing 18 and outscoring the RiverHawks 21-to-2 on miscues.
In the rebounding battle, NSU controlled the glass 44-to-28 on the Griffons who are 7-1 overall and 2-0 in the MIAA.
The RiverHawks with the loss are 4-3 and 1-1 in conference play, they will return home on Tuesday to host Central Oklahoma at 5:30 p.m.