Ceci Moses Back On Sidelines Coaching the Santa Fe Indian School boys basketball program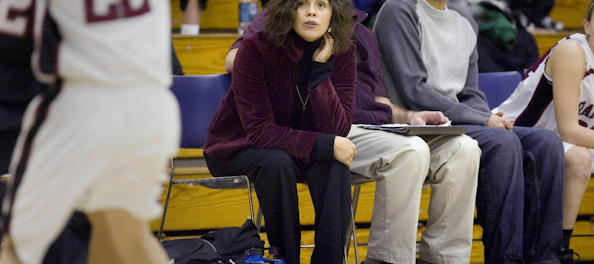 (Santa Fe, NM) – The mother of Shoni and Jude Schimmel, Ceci Moses, is back on the sidelines coaching again after accepting a job earlier this fall with the Santa Fe Indian School Braves.
In a story reported back in August by the Santa Fe New Mexican, Ceci was offered a job by the Native American school owned and operated by the 19 Pueblo Nations of New Mexico, but hadn't accepted it.
If you're still up for it, stick around. The job we thought was filled just a few days ago may still be open. The job was offered to — and accepted by — Cecilee "CiCi" Moses, the mother of WNBA star Shoni Schimmel and University of Louisville player Jude Schimmel. – Santa Fe New Mexican
But as of today, according to the Santa Fe Indian School Athletic website, the 2014-2015 head boys basketball coach is currently listed as Ceci Moses and the assistant coaches are listed as Rick Schimmel (Father of Shoni and Jude) & Jason Abeyta. We also heard from a few employee's on site that indeed some of the other Schimmel children had been enrolled in classes at the school.
Moses takes over the program after previous head boys basketball coach Zack Cole took a job at Ramona High School in Riverside, California in the same capacity. Before Cole took over  at SFIS , the Braves where 0-27 and last season he took them to the state tournament.
If you are in the area be sure to go and catch a game, below is the schedule for this season.
Running Braves Basketball Schedule (2014-2015)
Friday
Nov. 21
Navajo Prep (Home) C,JV,V
4pm
Saturday
Nov. 22
Shiprock (Home) C, JV, V
 12pm
Tuesday
Nov. 25
Robertson (Away) C, JV, V
4pm
M, W, Th
Dec. 1,3,4
Pojoaque Tourney (Away) C, JV Only
TBA
Thurs-Sat
Dec. 4,5,6
Braves Invite (Home) V Only
TBA
Tuesday
Dec. 9
East Mountain (Home) JV,V
5:30pm
Thurs-Sat
Dec. 12,13,14
Braves Invite (Home) C Only
TBA
Th-Sat
Dec. 11-13
Laguna Tourney (Away) V
 TBA
Th-Sat
Dec. 11-13
Bernalillo Tourney (Away) JV
 TBA
Th-Sat
Dec. 18-20
Ben Lujan Tourney (Away) V
 TBA
Friday
Jan. 9
Pojoaque (Home) C, JV, V 
4pm
Saturday 
Jan. 10 
Wingate (Home) C, JV, V 
4pm 
Tuesday
Jan. 13
Laguna Acoma (Home) C,JV,V
4pm 
Saturday
Jan. 17
Dulce (Home) JV & V Only
1pm
Tuesday
Jan. 20
Sandia Prep (Home) C,JV,V
4pm 
Saturday
Jan. 24
Hope Christian (Away) C,JV,V
4pm
Tuesday
Jan. 27
Bosque Prep (Away) C,JV,V
4pm
Friday
Jan. 30
St. Michaels (Away) C,JV,V
4pm
Tuesday 
Feb. 3
Thoreau (Home) C, JV, V
4pm 
Friday
Feb. 6
Sandia Prep (Away) C,JV,V
4pm
Tuesday 
Feb. 10
Hope Christian (Home) C, JV, V
4pm
Friday 
Feb. 13
Bosque Prep (Home) C, JV, V
4pm
Tuesday 
Feb. 17
St. Michaels (Home) C,JV,V
4pm
 TBA
Feb 23-28
District Tourney
TBA