Caitlyn Ramirez (Seminole) Scores 11 for Troy as the Troyans Dominate ULM in 90-51 Win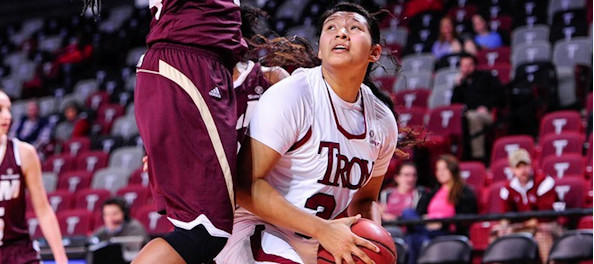 TROY, Alabama – The Troy women's basketball team led wire-to-wire and dominated ULM with pressure defense in a 90-51 win at Trojan Arena on Thursday night.  Troy snapped a two-game skid, thanks in large part to a school-record 23 steals as ULM committed 39 turnovers.
The game was never in doubt as Troy (12-7, 7-3) held ULM to four points in the first 11:30 of the game.  With 8:29 to go in the first half, the Trojans led 27-4 and were on their way to a blowout win.
Ronita Garrett posted a third straight double-double with 19 points and 12 rebounds, including 13 points in the first half as Troy pulled away.  Garrett, who now has 13 double-doubles on the season, has already set the Troy Division I era (1993-present) single-season record.
Ashley Beverly-Kelley finished with a game-high 23 points, as well as game-highs of six assists and six steals.  Rachel Reid hit five of Troy's 11 3-pointers and posted 17 points.  Caitlyn Ramirez (Seminole Nation fo Oklahoma) was the fourth and final Trojan in double figures as she posted 11 points.
"This was a very good win against a good ULM team that almost beat us at their place just two weeks ago," Troy head coach Chanda Rigby said.  "The difference in tonight's game was our intensity and the amount of pressure we applied to them.
"ULM had some advantages over us coming, including in the post, but we a good gameplan and executed it perfectly."
Troy entered the game leading the conference with 11.0 steals per game, but more than doubled that mark with 23 on Thursday night, tying an all-time school record.  The Trojans forced ULM into 39 turnovers, scoring 41 points off of them.
The Warhawks, in comparison, scored just 11 points off of 19 Troy turnovers.  Troy held ULM (8-11, 4-6), who had won three straight games coming in, to 21 percent (4-of-19) shooting in the first half and 29 percent (14-of-49) on the night.
The turnovers and fast pace of the game helped Troy take almost twice as many shots as ULM.  Troy finished at 41 percent (34-of-82) shooting on the night.  The Trojans finished with a season-high 23 assists, led by Beverly-Kelley's six.  Lacey Buchanon, making her first career start, was right behind with five while Garrett added four.
The win completed Troy's first season sweep after the Trojans defeated ULM on the road, 82-77, just two weeks ago.  ULM is the first team that Troy has played for a second time this season.
Troy will go for another season sweep on Saturday when it travels to take on UT Arlington at 5 p.m. at the College Park Center.  Troy defeated UTA, 70-63, in Trojan Arena back in early January.