Caitlyn Ramirez (Seminole) has signed to play basketball for Cadi La Seu in the first division of the Spanish basketball association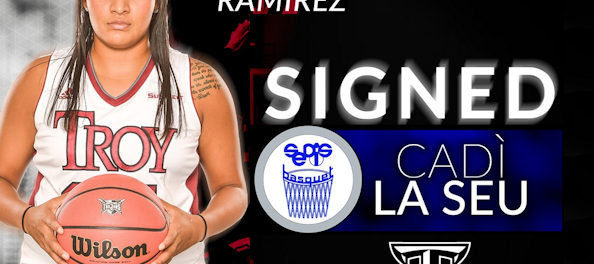 By Wes Johnson, Troy Trojans Athletics
TROY, Alabama – Former Troy women's basketball forward Caitlyn Ramirez (Seminole Nation) has signed to play professionally for Cadi La Seu in the first division of the Spanish basketball association, Liga Femenina.
Cadi La Seu is located near the Andorran border in the Catalan Pyrenees in Spain. The team was a semifinalist in the league's postseason in 2014-15 but slipped to fifth the following season before ending last year in eighth. Last season's roster featured one American, Jude Schimmel, who played collegiately at Louisville.
"It's a very exciting opportunity," Ramirez said. "While I accomplished a lot at Troy and am very proud of my career, I'm not ready to give the game up just yet. I'm looking forward to going over there and playing against experienced veterans and learning as much as possible."
Ramirez was a two-time All-Sun Belt selection for the Trojans and led the program to back-to-back Sun Belt Conference titles. She averaged 10.5 points and 7.1 rebounds for her career and set the Troy Division I single-game rebounding record with 22 against Arkansas State in the first round of the Sun Belt Conference Tournament on March 9.