Bronson Koenig's (Ho-Chunk) Wisconsin Badgers headline four ESPN Super Tuesday matchups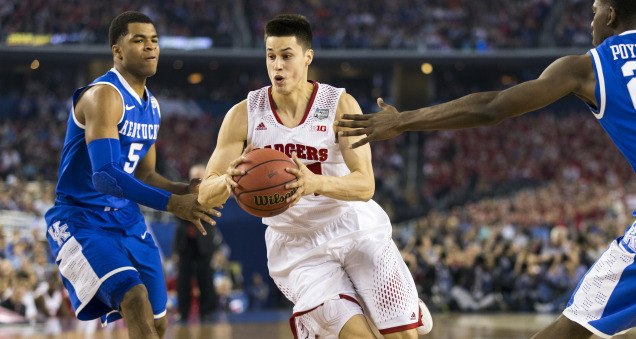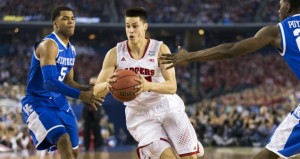 MADISON, Wis. — ESPN announced its annual Super Tuesday schedule Wednesday afternoon, which has the Badgers playing a prominent role in headlining this season's slate. For Indian Country, Bronson Koenig (Ho-Chunk Nation) returns for his sophomore campaign after  helping his Badgers reach the Final Four, becoming the second Native American male athlete to accomplish that feat.
Wisconsin will appear four times on the ESPN Super Tuesday lineup, the most of any Big Ten team. UW will host Iowa (Jan. 20, 8 p.m. CT) and Indiana (Feb. 3, 6 p.m. CT), as well as play road contests at Nebraska (Feb. 10, 8 p.m. CT) and Maryland (Feb. 24, 6 p.m. CT).
The Badgers swept the season series against Iowa last season with a pair of wins, both in Madison and Iowa City. The last seven meetings between the two teams has been decided by an average of 4.0 points per game, including a pair of overtime games.
Wisconsin has defeated Indiana 12 straight times at the Kohl Center, including a 69-58 win last season. The Hoosiers have not won in Madison since 1998, prior to Bo Ryan's arrival.
Nebraska got the better of last season's lone meeting with Wisconsin, as the Huskers earned a 77-68 home victory. Last season's victory was Nebraska's first win over the Badgers since entering the Big Ten Conference. While UW has won five of the last six matchups overall, Nebraska owns a 7-3 advantage in games played in Lincoln.
UW holds a 5-2 all-time series lead over new Big Ten member Maryland, including a 78-69 victory in the team's most recent meeting back in 2009 at the EA Sports Maui Invitational. The series is tied 1-1 in games played at College Park.
Overall, ESPN networks will offer a full slate of games from both the Big Ten and SEC as part of the 2014-15 Super Tuesday slate. Full conference schedules will be announced at a later date. ESPN's 2013-14 season was the most-viewed and highest-rated regular season ever.
All Super Tuesday telecasts will also be available through WatchESPN, accessible online at WatchESPN.com, on smartphones and tablets via the WatchESPN app, and streamed on televisions through Amazon Fire TV, Apple TV, Chromecast, Roku, Xbox 360 or Xbox One to fans who receive their video subscription from an affiliated provider.
ESPN's Super Tuesday Schedule

Date

Time (CT)

Game
January 6
6 p.m.
Arkansas at Georgia
8 p.m.
Ohio State at Minnesota
January 13
6 p.m.
No. 24 Michigan at Ohio State
8 p.m.
Missouri at No. 1 Kentucky
January 20
6 p.m.
LSU at No. 9 Florida
8 p.m.
No. 25 Iowa at No. 4 Wisconsin
January 27
6 p.m.
Nebraska at No. 24 Michigan
8 p.m.
No. 9 Florida at Alabama
February 3
6 p.m.
Indiana at No. 4 Wisconsin
8 p.m.
No. 9 Florida at Vanderbilt
February 10
6 p.m.
No. 1 Kentucky at LSU
8 p.m.
No. 4 Wisconsin at Nebraska
February 17
6 p.m.
No. 1 Kentucky at Tennessee
8 p.m.
No. 18 Michigan State at No. 24 Michigan
February 24
6 p.m.
No. 4 Wisconsin at Maryland
8 p.m.
No. 9 Florida at Missouri
March 3
6 p.m.
No. 25 Iowa at Indiana
8 p.m.
No. 1 Kentucky at Georgia