Bronson Koenig (Ho-Chunk) Scores 13 Points for Grand Rapids in Loss to the Nets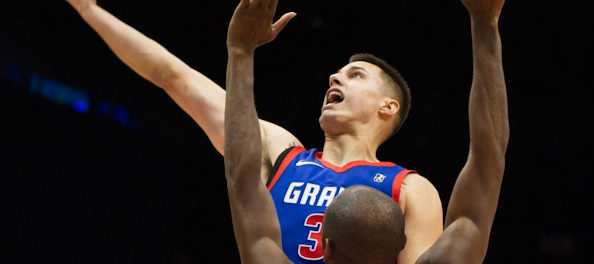 LONG ISLAND  – The Long Island Nets (6-4), the NBA G League affiliate of the Brooklyn Nets, defeated the Grand Rapids Drive (4-8) 106-86 on Tuesday afternoon at NYCB LIVE, home of the Nassau Veterans Memorial Coliseum.
Long Island guard Milton Doyle led the way for the home team with a game-high 32 points, six rebounds and five assists in 30 minutes off the bench. He shot .667 (12-of-18) from the field and .700 (7-of-10) from beyond the arc in the victory, while Nets forward Kamari Murphy notched his fifth double-double of the season in the game with 12 points and 11 rebounds in 32 minutes.
Drive center Landry Nnoko (14 points and 12 rebounds in 34 minutes), guard Bronson Koenig (Arapaho) had 13 points and 3 rebounds in 32 minutes and forward Derek Willis (Arapaho) scored 9 points and had 5 rebounds in 31 minutes.
As a team, Long Island shot a franchise record .591 (13-of-22) from 3-point range in the win. Long Island led by three, 45-42, at halftime and then outscored the Drive 26-18 in the third quarter to gain momentum. The Nets never trailed in the second half, doing so in their second straight game, with Doyle leading the way for the Nets in the game's final period, scoring 12 points (4-of-4 3FG) in seven minutes as the team outscored Grand Rapids 35-26.