Bronson Koenig (Ho-Chunk) scored a G League career high 17 points but Drive can't top OKC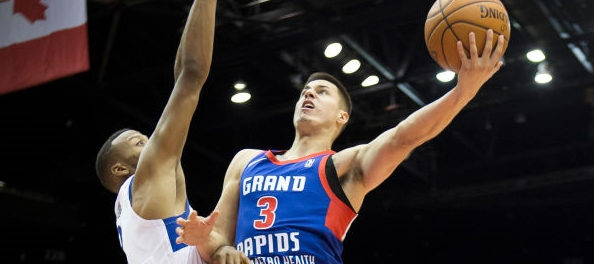 GRAND RAPIDS (November 21, 2017) – Chris Wright, Bryce Alford and Daniel Hamilton each scored at least 20 points on Tuesday night as the Oklahoma City Blue (3-4) handed the Grand Rapids Drive (4-5) their fifth loss in a row, by a 122-112 final. Wright had 20 points by halftime and Hamilton nearly recorded a triple-double with 20 points, 11 rebounds and nine assists.
Henry Ellenson led the Drive with 31 points and 10 rebounds on assignment from the Detroit Pistons, and two-way player Luis Montero had his best game of the season with 26 points, eight rebounds and six assists. Bronson Koenig (Ho-Chunk Nation) scored a G League career high 17 points and Kenneth Smith also recorded season highs in points (13) and assists (eight).
Wright finished with a team-high 26 points for Oklahoma City, who also got two big contributions off the bench. Rashawn Thomas had 13 points, seven rebounds and five steals and Myke Henry scored 15 points, all in the first half.
The Blue shot 47 percent from the field and their 122 points were the highest given up by Grand Rapids this season. The Drive actually exceeded that field goal percentage and also shot 35 percent from the field and 88 percent on their 26 free throw attempts, but they were done in by their problems with turnovers. They nearly doubled Oklahoma City's turnover total with 25 compared to 13 by the visitors.
Oklahoma City began the first quarter in a dominant fashion as they began the game up 22-13 and still held an eight-point lead after the first quarter, but the Drive were able to fight back to the tune of eight lead changes and 10 ties in the first half. However, the Blue got their advantage back up to four by the end of the half and jumped on Grand Rapids in the second half.
The Drive got the deficit back into single digits a couple times, but not until the final minutes of play when victory was all but assured for Oklahoma City. The 31-21 third quarter by the Blue was too much to overcome. With the win the Blue salvaged a three-game road trip that had begun with two losses.
The Drive's next opportunity to get back in the win column also comes on Friday, against Sioux Falls at home.