Bronson Koenig (Ho-Chunk Nation) Scores Game-High 19 Points as Badgers close out home season with win over Michigan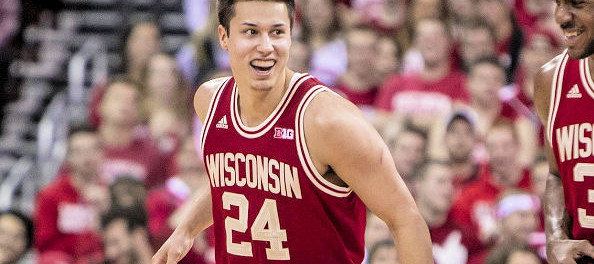 MADISON, Wis. (AP) — Bronson Koenig (Ho-Chunk Nation) scored 19 points, and Ethan Happ helped trigger a second-half surge with clutch plays on both ends of the floor in Wisconsin's 68-57 victory Sunday over Michigan.
Happ finished with 12 points and six rebounds for the Badgers (19-10, 11-5 Big Ten), who have won 10 of their last 11 games.
Wisconsin opened some breathing room in a spirited game with an 8-0 run in the middle of the second half that started with Happ on the bench.
The 6-foot-9 freshman forward came back with 11:44 left and stole a Michigan entry pass before driving to the bucket for a layup at the other end.
The conference leader in steals added two more against Michigan and blocked two shots.
Vitto Brown gave Wisconsin a boost from the perimeter after hitting 4 of 6 from 3-point range and finished with 14 points.
Zak Irvin scored 14 points for Michigan (20-10, 10-7).
Losers of three of four, the Wolverines missed out on a chance to improve their NCAA tournament resume.
Once 1-4 in conference play, Wisconsin has surged back to the top half of the Big Ten standings under interim coach Greg Gard.
Playing their final home game of the regular season, the Badgers grabbed more loose balls and rebounds down the stretch.
Michigan, meanwhile, seemed frazzled.
In the span of two minutes, Derrick Walton Jr. and Irvin each missed layups that could have closed a seven-point deficit with 5:39 to go.
The Badgers called timeout to regroup, responding with 3s from Koenig and Brown to keep the lead at double digits for most of the rest of the way.
Nigel Hayes finished with 16 points and seven rebounds for Wisconsin. Walton had 10 points, eight assists and five rebounds for Michigan.
Michigan led 30-29 at halftime. The Badgers sought to limit Michigan from the 3-point line, but the Wolverines found openings on drives and shorter jumpers in shooting 54 percent (13 of 24) in the first half.