Bronson Koenig (Ho-Chunk Nation) Scores 7 Points as Wisconsin bears down on Cal to earn 68-56 road win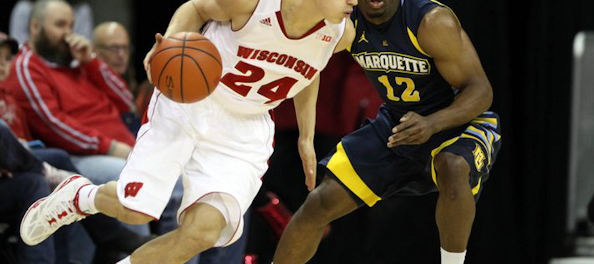 BERKELEY, Calif. — Nigel Hayes had 17 points and 13 rebounds, and No. 6 Wisconsin returned from a nine-day break to beat California 68-56 on Monday night.
Sam Dekker and Frank Kaminsky added 14 points apiece in the first game for the Badgers (11-1) since beating Nicholls State 86-43 on Dec. 13. Bronson Koenig (Ho-Chunk Nation) added 7 points in the contest as well in 19 minutes of play.
Tyrone Wallace scored 17 points and Jordan Mathews added 15 for the Golden Bears (10-2), who had their seven-game winning streak snapped. Cal had been off to its best start in 55 years under first-year coach Cuonzo Martin, with the only previous loss coming in New York against nationally ranked Texas.
Wisconsinwas a bit sluggish early but built a double-digit lead late in the first half and was never really threatened the rest of the way.
The Bears never got the deficit under nine points in the second half as Wisconsin throttled their offense up and Hayes delivered key baskets whenever Cal came close to mounting a threat.
A pair of free throws and a 3-pointer from Josh Gasser built the lead to 18 with just more than 4 minutes left to put the game out of reach.
Cal scored eight straight points to cut Wisconsin's lead to 17-16 midway through the first half. But the Badgers made five of their final six shots to take a 32-20 lead at the break on a three-point play from Duje Dukan with 27.6 seconds to go