Britanie Wacoche (Cherokee), Hope Tsosie (Navajo) lead Ottawa Golf Team to Seventh Place Finish at OU Invitational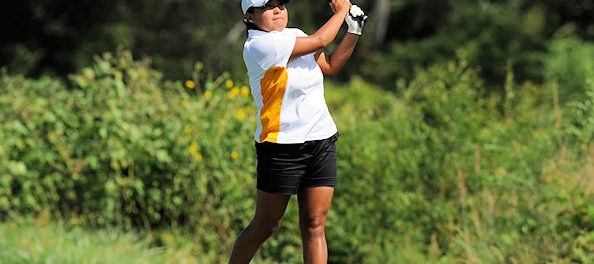 LAWRENCE, Kan. – The OU women's golf team competed at the Ottawa Invitational on Monday, Sept. 11 and Tuesday, Sept. 12 at the Eagle Bend Golf Course. The Braves finished seventh in the tournament with a two round score of 744. OU shot 373 in round one and 371 in round two.
"Our women's team is really not too far off," said OU head women's golf coach Wendell Smith. "Although a first glance at our team score shows that we struggled, I see a ton of potential."
Britanie Wacoche (Cherokee Nation) led the Braves with a two round total of 178. She shot a 93 in round one and an 85 in round two, placing 20th. "Britanie found her groove in the second round and I know each of our girls are capable of shooting in the 80s very soon," said Smith.
Hope Tsosie (Navajo) placed 24th, finishing with a 92 in round one and a 90 in round two (182). Breana Lowry, shot a two round score of 191 (93, 98), tying for 30th. Finishing in 32nd for the Braves was Kendra Martin. She shot a 95 in round one and a 98 in round two (193). Jessica Carlson finished with a 106 in both rounds to place 42nd.
The Braves return to the golf course on Monday, Sept. 25 when they travel to Marshall, Mo. to compete in the Missouri Valley Invitational at the Indian Foothills Golf Course.