Bradley Nash Named to 2014 Preseason All-WAC Team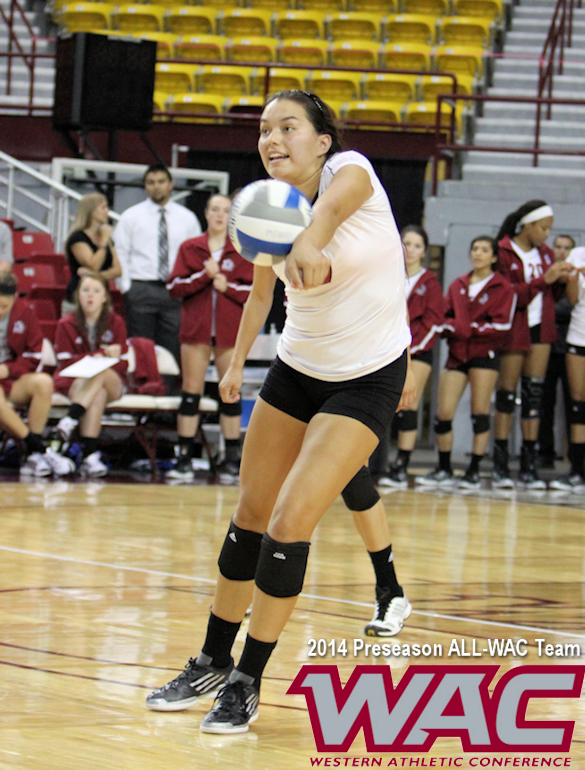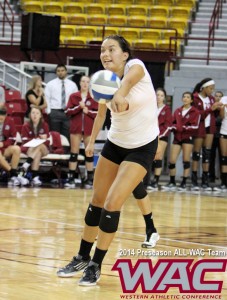 NDNSPORTS STAFF
(Las Cruces, NM) – The two-time defending Western Athletic Conference champion New Mexico State volleyball team has been picked by the conference coaches to win the 2014 WAC regular-season crown.
The Aggies, who won the 2013 regular-season title after being the preseason favorites, received six of the eight first-place votes.  The WAC also announced its preseason All-WAC team.
Setter Taylor Livoti, middle hitter Gwen Murphy and outside hitter Bradley Nash represent NM State on the preseason All-WAC list.  The only other team to have at least three players on the list is Utah Valley.
Nash (Navajo) had eight double-doubles last season and she was also was named to the All-WAC Tournament team after NM State's second-consecutive WAC tournament championship in 2013.
The Aggies kick off the 2014 season with the annual Alumni Match on Saturday, Aug. 23, beginning at 3 p.m. (MT).  NM State will then head to a tournament in Utah before returning home to host two tournaments inside the Pan American Center beginning Thursday, Sept. 4.
Press Release:
http://www.wacsports.com/ViewArticle.dbml?SPSID=45981&SPID=4125&DB_LANG=C&ATCLID=209607213&DB_OEM_ID=10100