Ava Battese (PBPN/Comanche) finished with 17 points as second half surge lifts Aggies over Tarelton State, 70-63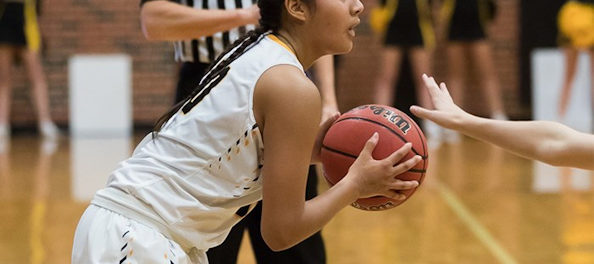 LAWTON, Okla. — The Cameron women's basketball team used a second half surge to secure their first Lone Star Conference victory over Tarleton State, as the Aggies won 70-63 on Saturday afternoon.
CU struggled early in the game committing 14 turnovers, which the TexAnns traded in for 19 points. TSU used several runs to maintain their lead against the Aggies in the first half, including a nine point chain to notch their largest advantage of nine points, 32-23 with 4:52 remaining.
Jasmine Luster kept CU in contention with a 5-for-6 effort at the line, and Ava Battese tallied ten points, nine of which came from three first half treys. CU battled TSU's reigning LSC Freshman of the Year Mackenzie Hailey who tallied 16 first half points.
The Aggies kept TSU scoreless in the final minute of the half while notching six points to chip their nine point deficit down to just three points to trail 38-35 at the buzzer.
CU came out of the locker room to take a 10-2 run down to the halfway mark of the third quarter, grabbing their first lead, 45-40, since 5:55 of the first period. However, the TexAnns took advantage of a triad of Aggie turnovers to narrow CU's edge to one point, 50-49, at the end of quarter.
With seven minutes left of the game, TSU tied the Aggies at 54-all before CU went on an 11 point run to take their largest lead of game, 65-54. The TexAnns gave the Aggies a scare though as CU ran into turnover and foul trouble giving TSU seven straight free throws to inch within four points.
In the final minute, CU secured the game with five free throws to one TexAnn layup for the 70-63 win moving them to 3-4 overall and 1-1 in the league. TSU drops to 3-4 and 0-2 in the LSC, with all four of their losses happening on the road.
Jamie Bonnarens led CU with 23 points, while Lejha Smith achieved her third double-double of the season on 10 points and 12 rebounds. Ava Battese (Comanche/PBPN)  finished with 17 points. Amaka Nwakamma had six assists and four steals.
TSU's Hailey scored a career high 28 points and had a team best six rebounds. She was the only TexAnn who scored double digits.
Cameron ended the game shooting 45 percent from the field, 31 percent from deep and 57 percent from the line. TSU shot 37 percent from the field, 25 percent from beyond the arc and 75 percent from the stripe.
The Aggies out-rebounded TSU 44-27, but committed a season high 24 turnovers. In turn, TSU had a season high 24 fouls.
Cameron will now take a four game road trip beginning on Dec. 7 as they travel to Texas A&M-Kingsville, and close out travel on Dec. 18 at Central Oklahoma.