Ashton Locklear (Lumbee Tribe), of Everest Gymnastics, headlines the field at the 2017 U.S. Classic, set for July 29 at Sears Centre in Illinois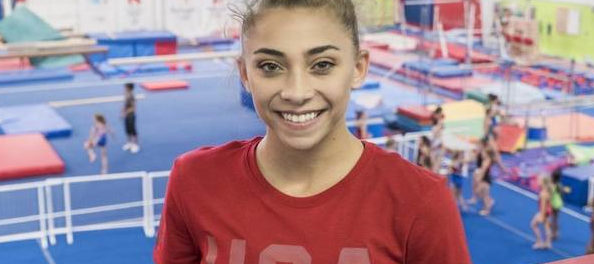 INDIANAPOLIS, July 19, 2017 — 2016 Olympic replacement athletes Ashton Locklear (Lumbee Tribe)  of Hamlet, N.C./Everest Gymnastics, and Ragan Smith of Lewisville, Texas/Texas Dreams Gymnastics, who won the 2017 AT&T American Cup, headline the field at the 2017 U.S. Classic, set for July 29 at Sears Centre in Hoffman Estates, Ill. The U.S. Classic is the final opportunity for female gymnasts to qualify for the 2017 P&G Championships, USA Gymnastics' national championships, scheduled for Aug. 17-20 in Anaheim, Calif.
Competition will begin Saturday at 1 p.m. CT with the junior elites, followed by the senior session at 6:30 p.m. CT. A total of 73 athletes from 25 states will compete in the junior and senior elite sessions. Many athletes who have already qualified for the P&G Championships will use the U.S. Classic as a final tune-up for the competition in Anaheim.
In addition to Locklear and Smith, the senior field features 2017 Stuttgart World Cup all-around bronze medalist Morgan Hurd of Middletown, Del./First State Gymnastics; 2017 Jesolo Trophy all-around and balance beam champion Riley McCusker of Brielle, N.J./MG Elite; 2017 London World Cup all-around silver medalist Victoria Nguyen of West Des Moines, Iowa/Chow's Gymnastics and Dance Institute; 2017 Jesolo Trophy floor champion and all-around bronze medalist Abby Paulson of Coon Rapids, Minn./Twin City Twisters; 2017 Jesolo Trophy team gold medalists Alyona Shchennikova of Evergreen, Colo./5280 Gymnastics, and Trinity Thomas of York, Pa./Prestige Gymnastics; along with fellow U.S. Senior National Team members Shania Adams of Plain City, Ohio/Buckeye Gymnastics, and Jordan Chiles of Vancouver, Wash./Naydenov Gymnastics.
Five junior elites, who are all members of the U.S. National Team, will compete during the senior elite session but will be vying for junior titles: 2017 Jesolo Trophy team gold medalists Olivia Dunne of Hillsdale, N.J./Eastern National Academy of Paramus, Adeline Kenlin of Iowa City, Iowa/IGN, Emma Malabuyo of Flower Mound, Texas/Texas Dreams Gymnastics, and Maile O'Keefe of Las Vegas, Nev./Salcianu Elite Academy of Gymnastics, the defending U.S. junior all-around champion, are among the five, along with 2017 Gymnix International Junior Cup uneven bars silver medalist Sunisa Lee of Saint Paul, Minn./Midwest Gymnastics Center. The five are competing in the senior session due to the large number of junior gymnasts who qualified the U.S. Classic.
The Hopes Championships, which features young, aspiring female gymnasts, is set for Friday, July 28, and tickets range from $20-$30. The Hopes classification is just below the elite level, and the Hopes Championships, previously known as the U.S. Challenge, is the culmination of the Hopes athletes' season.
Fans who cannot make the trip to Chicago can watch the junior session and the Hopes Championships via a live webcast at usagymclassic.com/live. The Olympic Channel is broadcasting the senior competition live, and the webcast may be viewed on mobile devices via olympicchannel.com/en/tv. For more information, go to usagymclassic.com.