Ashlynn Ward (Standing Rock Sioux) has 15 Kills in MSUB's Conference Win over Saint Martin's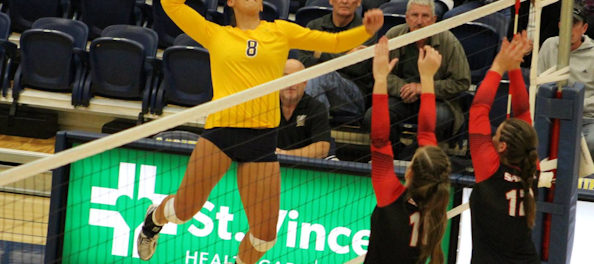 BILLINGS, Mont. – Montana State University Billings earned a four set Great Northwest Athletic Conference win over Saint Martin's 25-17, 19-25, 25-18, and 25-19 Thursday at Alterowitz.
"We did a good job of sticking to our game plan tonight against SMU," MSUB head coach Casey Williams said. "It wasn't our prettiest match, but a win is a win. Casey hit her season high of 14 kills and Stormy had another double-double. This is a good win for us, and a confidence boost as we go into our last home match against a tough Seattle Pacific team.
Rich hit .360 in the match earning 14 kills against five errors. The middle blocker added four blocks, five digs, and three assists for the Yellowjackets. Ashlynn Ward (Standing Rock Sioux) tied the match-high of 15 kills. Miranda McConnell added 10 kills and four blocks. Stormy Siemion posted a double-double of 10 kills and a match-high 18 digs.
Freshman Faith Taylor had 15 digs for MSUB and Angala Jensen 48 assists.
The Yellowjackets started the match with a .429 attack percentage in the opening set, faltered in the second, but finished strong, moving back up to a .400 in the final frame. MSUB ended the night hitting .212 with 69 digs, 8.0 blocks and 55 assists.
The Saints were led by 15 kills from Rebecca Mitchell and 12 from Rachel Gondrezick. SMU's Dani Williams had 23 assists and Nicolette Nesbitt 16.
The win improves MSU Billings to 6-19 overall and 4-11 in the GNAC. Saint Martin's falls to 6-14 overall and 2-14 in the GNAC.
UP NEXT: MSUB is set to host its final home match of the 2016 season. The Yellowjackets are welcoming conference opponent Seattle Pacific on Saturday, Nov. 5, at 7 p.m. during this season's Senior Night when MSUB's three graduating seniors Stormy Siemion, Ashlynn Ward, and Kylee Cornelio will be honored before the start of the match.