Ashley Beatty: A Journey Full of Hard Work and Faith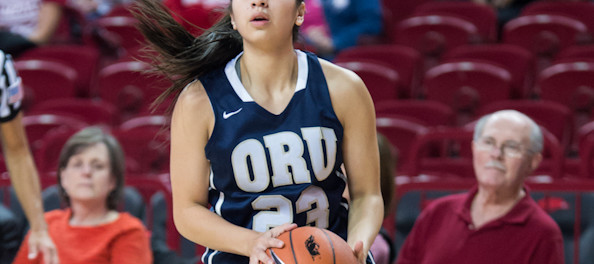 By Charlie Perry
Lawrence KS- Oral Roberts (ORU) guard Ashley Beatty (Caddo/Lakota/Gros Ventre) sits at a local diner with her parents and close family on a chilly winter night in Lawrence, Kansas. Beatty is all smiles as she enjoys one of her favorite meals, breakfast for dinner. Around the table the family group is celebrating her team's recent road victory against the Kansas Jayhawks. As she grabs a a bite to eat, Betty is reminded of her journey from Oklahoma high school standout to NCAA division one college basketball player. A journey full of hard work and faith.
"The speed is definitely different. Playing against bigger and stronger players is a change as well. There are so many good players at this level. In high school you could get by having one good player but here everyone's good," said Beatty.
Ashley is pretty good herself. At Anadarko high school Beatty was a leader on the Lady Warriors basketball team. Her three point shooting and ball handling helped lead the Lady Warriors to three Oklahoma Championship game appearances including a 2012 state title. If that wasn't enough, Beatty was selected to the all-state team twice in 2014 and 2015. She was even named to the 2015 VYPE Top 100 List that showcases Oklahoma's top high school athletes.
Beatty contributes her faith and hard work to her success. "When I'm sitting in the locker room before a game I think about God and want to play for him. No matter what the situation is.  You just have to rely on God in tough times. I'm going to continue to work. I believe by working hard good things will come my way, Beatty said.
Playing basketball and keeping the faith are pillars of the Beatty household. The second youngest of four children, Ashley can still remember watching tapes of "Pistol" Pete Maravich with her father and older sisters growing up. Her mother Michelle played NAIA basketball and her father George was a force for Oklahoma City University under legendary coach Abe Lemons. Both of her older sisters play basketball. Oldest sister Ryan played Junior College ball in Altus, Oklahoma. Lakota, who is still in college, begin her athletic career at Oklahoma State before transferring to Oral Roberts in 2015 to play with her sister. "Both my parents come to all my games and I really want to make them proud," said Beatty.
From a young age Ashley's parents have instilled in her a work ethic that few can match. Since arriving at ORU she has done all she can to take her game to new heights. "I don't want to be one dimensional. I've worked on my defense and I'm getting in the gym and shooting more than I ever have. On top of that I always look to stay in really good shape," said Beatty.
Her older sister's arrival at Oral Roberts has pushed her even more. "we've played together all our lives. We each know what the others going to do. She expects a lot out of me. If I don't follow through I would be very disappointed in myself. We're really competitive," said Beatty.
Making it this far hasn't always been easy for Ashley. She is very familiar with the hardships of the reservation and lack of opportunities. "On my mom's reservations there's not much to do. It's hours away from the city. It only has a gym, school and grocery store." She went on to say it can be difficult for young people to stay away from negative influences when it comes to reservation life.
"There's a lot of statistics. A lot of Natives don't make it off the reservation. I want to encourage them to work hard and never give up. It can be tough sometimes to stay away from negative influences. I would say stay focused and rely on god. You can literally do anything. You have to be around people that want you to succeed and succeed themselves," said Beatty.
That chilly night in Lawrence, Kansas, Ashley was surrounded by people who want to continue to see her succeed. Her cousin and Haskell Indian Nations University Student Angelica Mora was one of them. "Ashley knows her faith and what she can accomplish. Her determination and persistence is powerful on the court. Seeing native leaders like her maintaining a positive attitude and making the decision to attend college is something the rest of our young Native youth need to see more. Twenty-five percent of the Native American population are under twenty-five years old. It's up to young people like Ashley to make moves to help inspire our youth to be successful."