Alie Jimerson (Cayuga) named to Canadian Women's Lacrosse team that will compete at the 2017 FIL Women's Lacrosse World Cup in Guildford, England.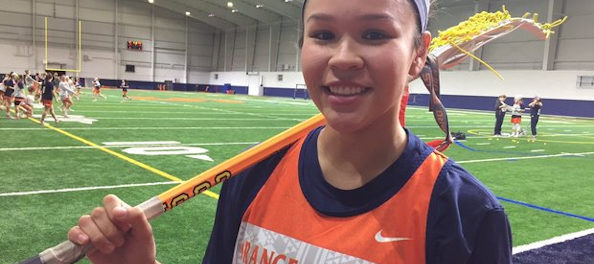 SYRACUSE, N.Y. — Syracuse Junior Alie Jimerson is one of 18 players who will represent Canada at the 2017 Federation of International Women's Lacrosse (FIL) World Cup July 12-22 in Guildford, England. She was selected from a 25-player National Training Team, which was evaluated and narrowed down this past weekend in Syracuse.
Jimerson played two seasons at the University of Albany before transferring to Syracuse. She was an All-America East Second Team selection last season. Jimerson recorded 34 assists, which ranked fifth on the school's single-season record list. She finished the year with 55 points (21g, 34a).
Syracuse head women's lacrosse coach, Gary Gait, Team Canada's women's field program director, will serve as associate head coach for the Canadian team at the World Cup. In addition, Syracuse assistant coach Caitlin Defliese will serve as an assistant coach for Team Canada.
The Canadian National Team's final roster and two alternates will participate in a final training camp this spring, after which a condensed roster for the 2017 World Games in Wroclaw, Poland in July.