Alie Jimerson (Cayuga) Helps Lead No. 10 Syracuse Past No. 20 Duke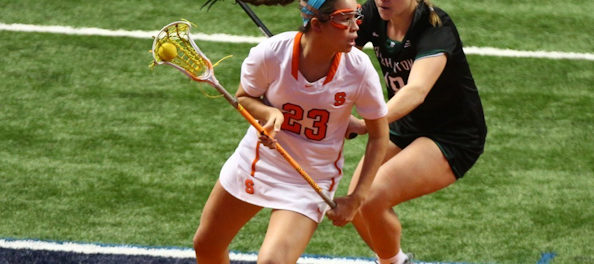 DURHAM, N.C. – Redshirt sophomore Ella Hogan caused a turnover and senior Kelsey Youmell picked up the ground ball with four seconds remaining to secure the No. 10/11 Syracuse women's lacrosse team's 10-9 victory against No. 20/rv Duke on Sunday, April 2 in Durham, N.C.. The win snapped the Orange's two-game losing streak and improved their ACC record to 4-1.
"It was a team effort, that was the key," said Syracuse head coach Gary Gait. "It was a solid team effort. We got up by a couple and we survived."
HOW IT WAS DECIDED
With the score tied, 2-2, Syracuse (9-4) recorded three straight goals to take its largest lead of the game at 5-2 with 7:13 remaining in the first half. The teams traded goals before an Orange turnover gave Duke the final possession of the first half and the Blue Devils took advantage with Maddie Crutchfield's goal with six seconds on the clock to cut Syracuse's lead to 6-4 at intermission.
Duke scored three of the first four goals of the second half to tie the game at 7-7 with 24:25 remaining. Junior Alie Jimerson (Cayuga) gave the Orange the lead for good and then assisted on junior Riley Donahue's goal to put Syracuse up by two, 9-7. The squads traded goals before Stuart Humphrey's free position goal cut the Orange's lead to one, 10-9, with 1:29 remaining. The Blue Devils won the ensuing draw, but Hogan's caused turnover sealed the win for the Orange.
OF NOTE
Jimerson and Donahue each finished with four points on two goals and two assists each. Donahue recorded her 50th career assist in the victory, while Jimerson tied her season high in points. In addition, junior Neena Merola (Painted Post, N.Y.) had two goals, while goalkeeper Asa Goldstock (Niskayuna, N.Y.) finished with seven saves.
UP NEXT…
Syracuse is back on the road Wednesday, April 5 at Loyola. The Orange return home to host Virginia Tech on Sunday, April 9 at 1 p.m. at the SU Soccer Stadium.