Alanna Herne (Mohawk Nation) registers her third nine-point game of the season in Buffalo States 14-11 Win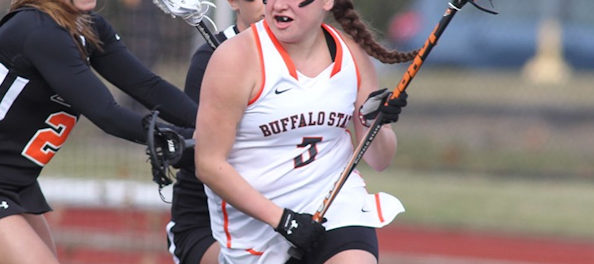 FREDONIA, N.Y.—SUNYAC leading scorer Alanna Herne (Mohawk Nation) registered her third nine-point game of the season and Buffalo State scored nine goals in the second half to rally for a 14-11 victory over host Fredonia today in the Bengals' conference opener.
THE BASICS
FINAL SCORE: Buffalo State – 14, Fredonia – 11
LOCATION: University Stadium – Fredonia, N.Y.
RECORDS: Buffalo State (4-4/1-0), Fredonia (2-8/1-1)
HOW IT HAPPENED
Herne finished with a team-high six goals to go with three assists.
Jackie Dufresne (Lake View/Frontier), Cassie Saint-Vil (Middletown/Middletown), Christina Krowel (Amsterdam/Burnt Hills-Ballston Lake) and Morgan Hogue (Painted Post/Corning) all added two goals apiece for the Bengals.
The Bengals led twice in the early going, but the Blue Devils closed the first half on a 5-2 run to take a 7-5 lead into the intermission.
Buffalo State scored the first two goal of the second frame to even the score.
After Fredonia reclaimed a one-goal lead, the Bengals responded with a 3-0 run, including a goal by Herne with just under 22 minutes remaining to give Buffalo State a lead it would not surrender the rest of the way.
Buffalo State outscored Fredonia 9-3 in the second half and 7-2 over the final 22 minutes.
Elyse Stark (Lido Beach/Long Beach) and Megan Doyle (Palmyra/Palmyra-Macedon) shared the goalkeeping responsibilities again.  Stark made six saves while allowing seven goals in the first half, and Doyle also had six stops and conceded just three goals in the final 30 minutes.
Buffalo State held a narrow 29-26 edge in shots and a 15-11 advantage in draw controls.
NOTEWORTHY
Herne moved into fifth alone on Buffalo State's all-time goal-scoring list with 126.
UP NEXT                                                                                               
Buffalo State will host nationally No. 18-ranked St. John Fisher in a non-conference game on Thursday at 5 p.m.