Abilene Christian Sophomore Dominique Golightly (Kiowa Tribe) led the Wildcats with 22 points in a 82-72 victory over Idaho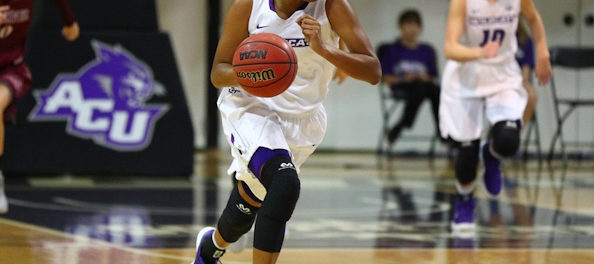 ABILENE – Abilene Christian's youngsters played the role of seasoned professionals in the Wildcats' 82-72 victory over Idaho Saturday at Moody Coliseum. ACU trailed by as many as 13 points in the first half – and nine at the break – before outscoring the Vandals 48-29 over the final 20 minutes.
The Wildcats remain undefeated this season at 3-0 following their second victory in three seasons over Idaho, while the Vandals slipped to 1-2.
Sophomore Dominique Golightly (Kiowa Tribe of Oklahoma) led the Wildcats with 22 points and her two 3-pointers in the fourth quarter were absolute game changers. A native of Chickasha, Okla., Golightly buried a trey at the 5:45 mark as part of a 14-5 ACU run that flipped a 61-55 deficit into a 69-63 lead, and four possessions later she drained the pass from junior guard Sara Williamson (7 assists), which made it a nine-point game at 74-65.
Golightly came down with a huge defensive rebound on the following possession after senior Taudenciah Oluoch swatted away a shot in the paint, and soon afterward the Wildcats grabbed their first double-digit lead of the contest with 3:47 remaining.
In making just her second career start, Oluoch finished one rebound shy of a double-double to go along with three blocks and 16 points on 7-of-8 shooting. And it was her free throws early in the fourth quarter (8:22), which made it a one-possession game at 61-59.
From there, the Wildcats twice tied the score at 61-61 and 63-63 on buckets by Williamson (13 points) and Breanna Wright (5 points, 4 assists). Then after Taylor Pierce missed a 3-pointer, senior Sierra Allen (8 points, 5 rebounds) sank a layup that gave ACU the lead for good as Golightly's trey came just 30 seconds later.
ACU's succession of fourth-quarter layups gave it 32 points in the paint, which is staggering after seeing the Wildcats were held to eight in the first half. The Wildcats also converted 20 Vandal turnovers into 24 points, won the rebounding battle 38-36, and received 18 points from its all freshman / sophomore bench.
Rookie forward Alyssa Adams chipped in seven points and seven rebounds in only 13 minutes, while freshman guard Josie Larson buried a pair of 3-pointers within 11 first-half minutes.
It was after Idaho grabbed its largest lead of the game (13 at 3:37) that the Wildcat rookies hit three-consecutive 3-pointers. Adams' trey at 3:15 of the second quarter was canceled out by Geraldine McCorkell's (24 points), but Larson countered with one of her own to make it a 10-point lead and Laura Rowe hit another with 2:19 to go, cutting the Vandal lead to 41-34.
Idaho made two free throws over the final two minutes, but its four misses during this stretch proved costly as the Wildcats entered the break down by nine at 43-34.
The Vandals went back up by 11 points during the third quarter; however, with several of their players in significant foul trouble, the Wildcats were able climb back in the game by making 7-of-15 field goals and 6-of-9 free throws. Williamson was a perfect 5-for-5 from the charity stripe in the third quarter, which the Wildcats won 21-15.
ACU shot 57.1 percent (16-28) in the second half to finish the game with a 50.9 success rate (29-57). The Wildcats also made 11 treys, while holding the Vandals to eight.
Idaho came into today's game averaging 12 3-pointers per game (vs. Colorado State and Ohio State) but made only two of 12 second-half attempts in shooting 33.3 percent (8-24) from long distance.
Today's game marked the first time the Wildcats overcame a double-digit deficit since coming back from 10 down at Oklahoma State on March 16, 2017. The Wildcats went on to win that WNIT game in Stillwater, 66-56. ACU last also posted big comebacks at Stephen F. Austin (down 10, won 80-73) and Texas A&M-Corpus Christi (down 11, won 72-59).
ACU returns to action Tuesday at 7 p.m. at SMU.