Abby Scott (Warm Springs) Moves into Top 10 in New Mexico State Basketball History in Three Point Shooting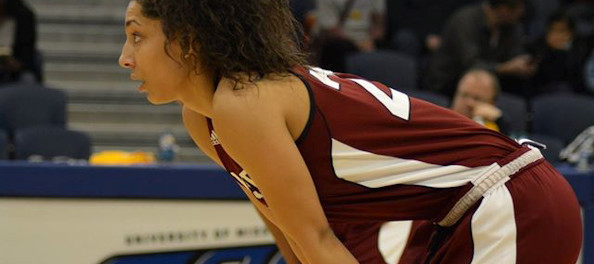 Scott hopes to inspire Native American youth to be the catalysts for change in our communities
By Charlie Perry
The Warm Springs tribal community stretches from the majestic snowcapped summit of the Cascade Mountains to the palisaded cliffs of the Deschutes River in Central Oregon. For hundreds of years the tribes have nurtured the never ending and entangled roots that give the landscape its vibrant and rich life force. Beautiful, glistening, silver Salmon leap high into clear blues skies and descend back into the crystal clear ripples of crisp streams. Delicious blue and red Huckleberries provide a fruitful background to a confederation of three tribes that share a rich heritage and history.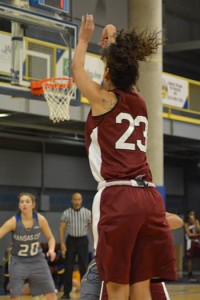 Much like a Salmon Abby Scott has leaped high into the air on her journey to higher education. She landed in New Mexico where her skills on the basketball court have recently made her one of the top ten three point shooters in New Mexico State history. Scott had to invest a great deal of time however to achieve success, "I never would have imagined that I would be in this position. I've put in countless hours and it's all about repetition. I take 500 shots a day, it's a constant, and I'm always in the gym."
Scott is in her third year with the New Mexico State Aggies. She decided to take a chance on the Aggies after a discussion with her former Amateur Athletic Union (AAU) coach Aarika Hughes who also made a leap of faith of her own, moving from Portland Oregon to take on her first college coaching positon with the Aggies. "She was my AAU coach before college my junior year she was hired by Coach Mark Trakh. He called her and said I know you're interested in coaching you should come down here; we have a job for you. He brought her in and I tagged along."
Since "tagging along" Scott has scored 618 points for the Aggies and knocked down 120 three point shots putting her in tenth place all time for New Mexico from long range. Aggie head coach Mark Trakh has learned a great deal from Scott as well. "I have a very close relationship with her, she's like my daughter. Development wise she works very hard taking at least 300 shots a day. She's 6'2 she can move and handle the ball she's very versatile.  I'm very excited for her. I'm very interested in her culture and where she's from. We really talk a lot she educates me on a number of things."
Coach Trakh went on to discuss his new found knowledge on Native American issues such as the Washington football team controversial name and past Native American genocide within the United States.
Although Scott is a gifted basketball player her true passion is helping young people. She plans to major in criminal justice and hopes to make an impact with her tribe back home. "I'm majoring in criminal justice and I want to minor in child psychology so I can help under privileged youth on my reservation." Scott had a piece of advice for Native American youth that she said helps motivate her, "You can do anything you want. Just because you see something every day; your aunties, uncles, moms, and dads, they might do something but that doesn't mean you have to. You can break the cycle and be the change. That's what I believe."