6-Foot-7 Fabulous Freshman: Barrow's Kameka Hepa (Inupiat) is one of the nation's rising stars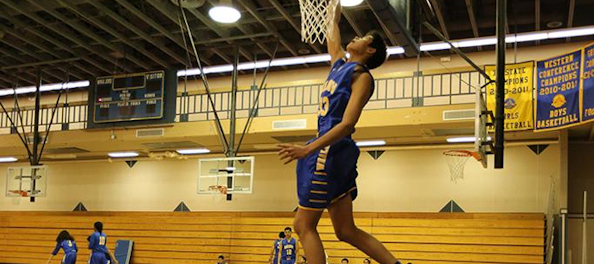 By Van Williams, ASAA Correspondent
In Barrow, they have been talking about the basketball boy wonder for years.
The wait is finally over.
Here comes Kamaka Hepa (Inupiat).
The 6-foot-7 freshman forward will make his high school basketball debut for the Whalers at home on Friday night against Squalicum High of Bellingham, Wash., and there is a buzz in Barrow like a rock star is about to perform.
"I've been here 15 years and the atmosphere is electrifying," Barrow coach Jeremy Arnhart told me.
Hepa isn't your typical 14-year-old. He's taller than most adults and considered by many to be one of the nation's top players for his age – a long, lean and skilled star-in-the-making who can dribble, dish and dunk.

Last summer he participated at the CrossRoads Elite Camp in Tennessee, where he joined 120 top prospects from around the nation. He played well enough to get mentioned on ESPN.com.
"He's the best ninth grader I've seen," Arnhart said. "His skill set is very good. He handles the ball with both hands and can finish with either hand, well above the rim."
Hepa's long arms and crazy wing span allow him to score and rebound under the basket and his ballhandling skills will allow him to set up his game from the perimeter.
He can orchestrate the offense from anywhere on the court.
"He is definitely a floor general. He handles the ball really well and sees the floor like a point guard," Arnhart said. "He will be one of our leaders on and off the floor. He knows what it takes to be the best and he works for those goals."
The Whalers has advanced to the ASAA Class 3A state tournament seven times in Arnhart's 10 years as head coach, although they have missed the big dance in each of the last two seasons.
The arrival of Hepa comes at a good time. The program needs a shot of adrenaline and Hepa is the kind of star player that can get it back on track; maybe even help the Whalers win their first boys basketball state title.
"I tell my team that we have some very high expectations and I embrace those expectations," Arnhart said. "With that being said, these expectations are coming because of a ninth grader. I put those into perspective, for my team and for others.
"We have a chance to be really good, but that of course will come with hard work."
Hepa is the younger brother of Lynette Hepa, a former Barrow girls star who is now a freshman at Fort Lewis College in Colorado.
This Hepa plans to play in college like his sister and his game is already predicated on getting to the next level. Even though he hasn't played a high school game yet, college coaches already know his name.
His footwork is promising and his ballhandling is potentially his greatest weapon. Rather than solely relying on his imposing height to beat smaller defenders, he has developed deft dribbling skills to help him maneuver around slower post players.
And he's got a nice midrange game too.
"He can score from all areas on the floor," Arnhart said. "He is a great outside shooter, but he can attack the rim and finish at the rim. He really is a complete player."
It might be on the defensive end, though, where Hepa makes his biggest impact.
He will block plenty of shots, sure, but he will force more bad shots. He will drive opponents crazy.
"One of the biggest advantages will be his ability to protect the rim," Arnhart said. "He will give us many options on the perimeter with trapping, ball pressure, etc. If we get beat, he can protect the rim. With his height advantage and skill set, we will take advantage of many mismatches."
Hepa's reputation will undoubtedly cause opposing players to go hard and test his toughness and fortitude. But Arnhart believes that's only playing into his hands.
"He has had publicity, even at the national level. That will motivate other players. They want to prove that they can play with an elite player. They must raise their level of play to compete," Arnhart said. "This type of player doesn't show up every day. He has some special skills and I'm excited to help advance his game. We have other good players that will really complement his skills. He is an ultimate team player. Smart, good kid."
Van Williams is a freelance writer in Anchorage and a correspondent for the Alaska School Activities Association.
Story orginally appears at: http://www.asaa365.com/news_article/show/456176-fabulous-freshman-barrow-s-hepa-is-one-of-nation-s-rising-stars