United Tribes wins at Dakota College Bottineau 106-96, moving conference record to 1-1 and overall record to 16-4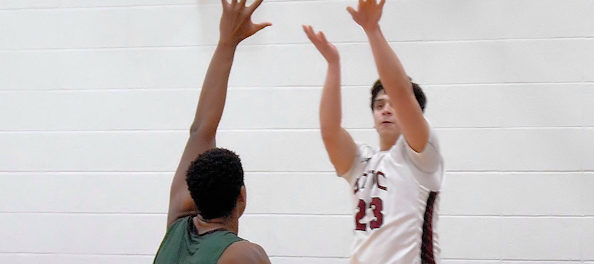 United Tribes used a balance scoring attack to upend conference foe Dakota College at Bottineau 106-96 in front of a vocal crowd at the Woodshed in Bottineau.  The Lumberjacks and Thunderbirds went toe to toe in the first half exchanging leads multiple times.  At the end of 20 minutes the Thunderbirds went to the locker room trailing 51-47.  In the second half United Tribes came out hot and out scored the Lumberjacks 59-45.  Tribes went up 102-94 on a lob from Sam Pendleton to Rob McClain with 1:30 to go and Pendleton went on to ice the game from the line with four straight free throws.
Robert Beaulieu had 22 points and 9 rebounds to pace 7 players who scored double figures.  Rob McClain registered his 11th double double of the season with 19 points and 12 rebounds.  Jacob Martinhad a double double of his own with 13 points and 10 assists.  Also reaching double figures for Tribes were Steven Redfox Jr. with 12, Sam Pendleton with 11, Shayden Keplin with 10, and Montel Carlow with 10.
United Tribes is 3-1 since the break and goes on the road for another conference game at Dawson Community College in Glendive, MT on Thursday January 18th at 8:30 Central time.