Tiana Guillory (Navajo) has career-highs of 27 points and 13 rebounds in Haskell Indian Nations University 84-63 Win over Peru State College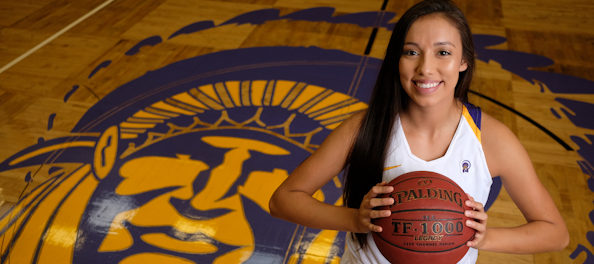 (Peru, NE) – The Haskell Indian Nations University women's basketball team picked up their third straight road game with a win Monday night against Peru State College by a final score of 84-63. The Lady Indians were led by freshman Tiana Guillory (Navajo) who had career highs of 27 points and 13 rebounds.
After going (2-0) in last week's CAM JAM Classic in Missouri, Haskell kept it's defense momentum going into Nebraska where they have now held each of their last 3 opponents to  exactly 63 points each.
Also scoring a career-high was Haskell sophomore Janee Bates (Navajo/Puebl0/Sioux) who put up 15 points. She was followed by Kelli Warrior (Ponca), who notched 12 points to push her career scoring record to (1,499) and freshman Darrian Diwayan (Laguna) who rounded out the double-digit scorers with 10 of her own.
For the game Haskell made 34 of 66 field goals for 51.5% which included making 6 of 23 from long range for 26.1%. From the free throw line, the Fighting Indians were 10 of 11 for 90.9%.
Haskell held a big rebounding edge as they grabbed 34 boards, including 12 offensive rebounds, compared to 19 total for the Bobcats. The Fighting Indians dished out 17 assists while the 'Cats had 14.
Haskell will now hit the road again for two more road games when they travel to Missouri to play in the College of the Ozarks Tournament where they will face Northern New Mexico College and Johnson and Wales University on January 12th & 13th. Next home game for the Lady Indians will be on January 20th at Coffin Complex.