TCU's Elliott Barzilli (Nooksack Tribe) Making Big Plays for the Horned Frogs at the College World Series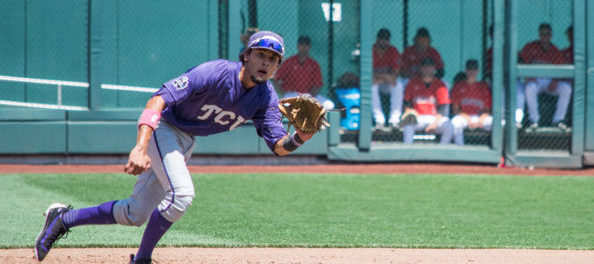 By Tyler Jones, @tylerjoneslive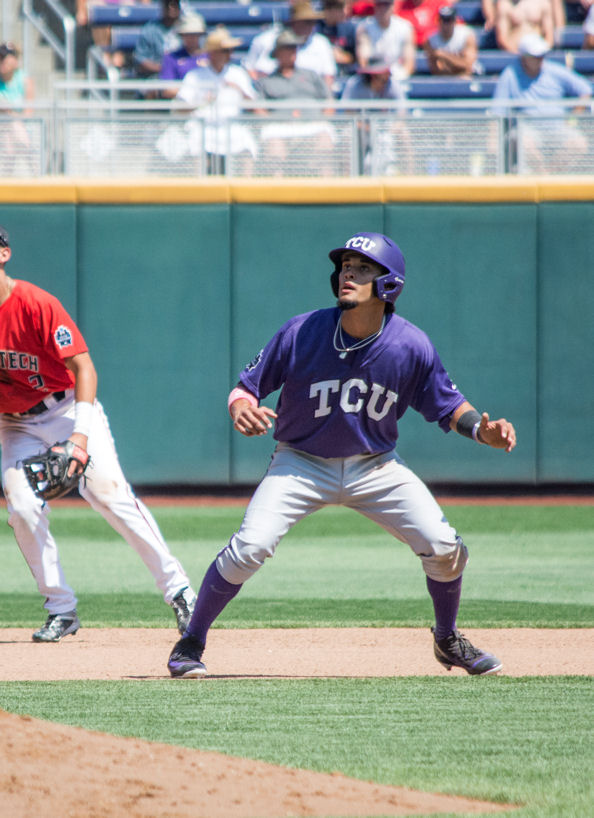 OMAHA- For the third straight year, TCU in the College World Series. 3B Elliott Barzilli (Nooksack Tribe) is not just along for the ride, he's helping command the ship for the Horned Frogs.
Barzilli is a native of Los Angeles and attended Palisades Charter High School, where he was a four-year letterman, destined to play College Baseball. He is also a member of the Nooksack tribe located in Deming, Washington.
Barzilli's mother Lu said, "He just loves the game. We've traveled around with him and every year, he just got bigger and stronger."
Barzilli's college career did not start off in Ft. Worth though, as Barzilli ended up going to Georgia Tech. In Barzilli's freshman year at Georgia Tech, the Yellow Jackets failed to make it out of the Nashville Regional and Barzilli would end up taking his talents to TCU.
In 2014, TCU advanced to the College World Series, but Barzilli watched from the dugout, as he was forced to sit out due to NCAA transfer rules.
By 2015, Barzilli's time had come. Barzilli played in 33 games and the Horned Frogs returned to the College World Series.
A year later, Barzilli and TCU have returned to the College World Series again, with Barzilli making significant contributions.
On Sunday, Barzilli batted from five hole, going 0-3 for the day, but managed to score a run, as well as steal two bases. The Horned Frogs would defeat Texas Tech 5-3.
Barzilli says, "It's a great experience. It's a great feeling to be back and a leg up for us to know what it's like to be back up here."
Barzilli's dad Ron attributes his success to not just his own work, but the whole squad saying, "He's (Elliot) just one player on this team. It's (TCU) a well-rounded team that supports each other."
With one win on their belts in the College World Series, Barzilli and the Horned Frogs look to continue to do so. Barzilli said, "We never give up. Our goal is simply to keep winning."

Game Recap
TCU advanced in the winner's bracket after a big win Sunday over Texas Tech. The two teams previously met, with Texas Tech winning two of the three matchups, but history did not repeat itself.
It may have been Father's Day, but there was brotherly love in the College World Series on Sunday between TCU and Texas Tech. The two Big 12 rivals faced off in Game 1 of a best of three series.
After two shutout innings, the Red Raiders struck first after a double from Corey Raley, which allowed Tanner Gardner to advance to third and eventually to home, after a fielding error.
TCU would answer in the top of the fourth, with a sacrifice fly from Ryan Merrill, which scored Elliott Barzilli, to tie that game at one all.
In the top of the fifth, TCU added to their lead with a solo home-run from Cam Warner. With the homer, the Horned Frogs would take a 2-1 lead.
Texas Tech responded though with a run of their own in the bottom of the fifth, off of a double by Gardner, which drove Tyler Floyd home. At the end of the fifth, the score was deadlocked at two all.
Later on, in the bottom of the 8th, the Red Raiders attacked again with an RBI double by Hunter Hargrove, which would drive in Raley and put Texas Tech on top 3-2, going into the ninth.
With their backs against the wall and the game on the line in the ninth, TCU needed to answer and they did. With two on, Luken Baker homered a three-run shot to left field, to push the Horned Frogs ahead 5-3.
As TCU led going into the bottom of the ninth, it was up to Closer Durbin Feltman to finish things off. Feltman did not disappoint, with two strikeouts and a save to seal the win for TCU over Texas Tech 5-3.
With the win, TCU moves on to take on Coastal Carolina Tuesday night at 8pm CST on ESPN. Texas Tech falls the the elimination bracket to take on the tournament top-seed Florida at 4pm CST Tuesday on ESPN2.