Taylor Mims (Crow Tribe) recorded career-high in kills and digs Sunday afternoon but Washington State would fall to Oregon State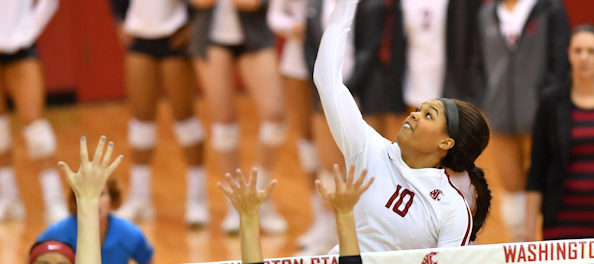 PULLMAN, Wash. — Taylor Mims recorded career-high in kills and digs Sunday afternoon but the Washington State volleyball team (13-7 overall, 2-6 in Pac-12) fell in five sets to Oregon State (13-7, 3-5) in Bohler Gym. The visitors won with set scores of 25-17, 20-25, 25-19, 14-25 and 15-12.
Mims, a junior outside hitter from Billings, Mont., led the match with her career-high 25 kills and also recorded a career-best 18 digs along with a season-high eight blocks and one ace. Casey Schoenlein had nine kills while Claire Martin and Ella Lajos added eight kills each with Martin tallying four blocks and Lajos three blocks. Jocelyn Urias had six kills with seven blocks. Libero Alexis Dirige led the match with 28 digs. Penny Tusa had 32 assists and Olivia Coale served two aces.
WSU out-blocked Oregon State 14.5 to 6 and out-dug OSU 71 to 64. The Beavers narrowly edged the Cougars in hitting stats, 61 kills to 59, and hitting percentage, .214 to .213. Each team had four aces.
Mims with a SMASH to tie the set at 13. #GoCougs #RiseAgain pic.twitter.com/RyAAfEhZGl

— Cougar Volleyball (@wsuvolleyball) October 15, 2017
WSU junior outside hitter Taylor Mims said, "We can look at this and focus more in practice about how we can execute and how we can finish. We had a great start in the fifth set. We need to learn how to carry that out and finish the game. This time we can't hold on to any losses because we have big teams like Stanford and Cal next weekend and we have to look forward in the future. We can't hold on to things like this, but it was a well-fought match and we can take that instead of a loss."
Washington State (13-6 overall, 2-5 in Pac-12) travels to the Bay area to take on California (11-8, 2-6) at 7 p.m. Fri., Oct. 20 at Haas Pavilion and then No. 3 Stanford (14-2, 7-0 pending 10/15 match vs No. 19 USC) at 7 p.m. Sat., Oct. 21 in Maples Pavilion.