Taylor Mims (Crow) has 16 Kills as Washington State Volleyball Takes 3-1 Win at Arizona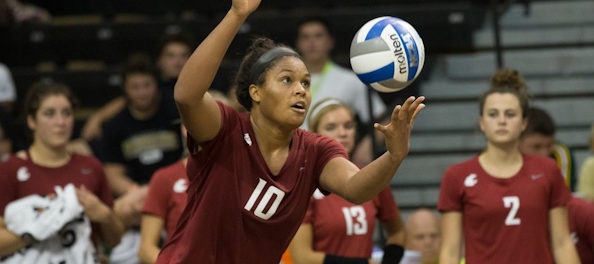 PULLMAN, Wash. — Led by the 16 kills of Taylor Mims (Crow Tribe), the Washington State volleyball team evened its Pac-12 record to 1-1 and advanced its overall record to 12-2 with a 25-22, 25-21, 24-26, 25-17 win over Arizona (7-4, 1-1) at the McKale Center in Tucson Saturday evening.
Mims also had three aces, eight digs and one block. McKenna Woodford and Jocelyn Urias each had 10 kills with Urias hitting an outstanding .556 with no errors in 18 attacks for her career-high kills total. Ella Lajos also played without a hitting error with seven kills on 13 attacks for a .538 hitting percentage. Ashley Brown had 26 assists and Penny Tusa added 14 assists. Alexis Dirige led the match with 20 digs and served a pair of aces. Urias and Claire Martin each had match-high four blocks.
WSU out-blocked the Wildcats nine to 4.5 and served six aces to Artizona's two. The home team out-hit the Cougars 56 to 53 and out-dug WSU 54 to 48. WSU hit .234 for the match and Arizona hit .212.
WSU Head Coach Jen Greeny said, "I'm definitely happy with the win but again I don't think we are as consistent as we need to be. There are a lot of streaks that seem to be happening and are either good for us or not so good for us. We need to clean that up if we expect to win more matches in the Pac-12.
Taylor Mims serves her 2nd Ace of the match. #RiseAgain #GoCougs pic.twitter.com/CHzFG9p7fo

— Cougar Volleyball (@wsuvolleyball) September 24, 2017