Spencer Ellsbury Making His Own Name in the Sports World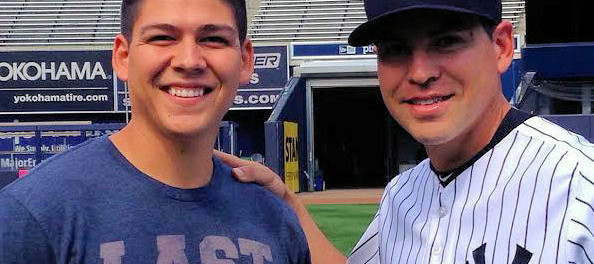 By Charlie Perry @CharlieHPerry
"Utility" vice president for AthletesBrand.com Spencer Ellsbury walks into his home and kicks off his sneakers. Another long day of visiting local Arizona sports apparel outlets has yielded a new partnership for his company. He grabs the remote control and turns the channel to the MLB Network. Ellsbury has many friends in the big leagues and enjoys checking up on them in his very limited free time.
Spencer has a famous last name. His brother Jacoby is the starting center fielder for the New York Yankees and a big name throughout Indian Country. However it's Spencer who has built an extensive list of relationships, all in the name of building awareness for a laundry list of issues that affect us all. "My brother Jacoby always wonders how I keep in contact with so many people. I'm pretty proactive about reaching out and staying in contact. My teammates and others really appreciate that. It builds a much more meaningful relationship with them," said Ellsbury.
He came from a baseball background, playing three years in college for Oregon State. Ellsbury learned a lot about living a positive and productive life in school. "I was a marketing major and graduated cum laude. Every quarter I was on the Dean's list. Even when I played baseball. I was never a starter but I learned a lot of life lessons in college that I could take on."
Ellsbury met the soon to be Athlete's Brand founder and CEO Kyle Mauch in 2011. They became fast friends as they swung bats over the summer. "I happened to meet Kyle when he was at a crossroad. He ended up playing college ball for a summer team called the Bend Elks. I was a teammate of his. We were great friends. We would hang out all the time. He's such a tremendously hard worker."
Ellsbury joined the Athletes Brand team in April of 2015. One month later his was promoted to VP/Director of Sales & Marketing. In a recent AthletesBrand.com press release Mauch speaks of his respect for Ellsbury, "Social media, designing products, player development, relationship management, marketing, HR, and more…Spencer has his hands in it. Hence the name, "Utility" Vice President and my Right-Hand Man!"

These two men have a bigger plan than merely selling high end athletic apparel. "We try to take care of athletes lives away from the field. One of the things that we do, that I'm most proud of, is partnering with various athletes to help them raise awareness and money for different charitable foundations", said Ellsbury.
Since its conception over 600 professional and collegiate athletes have donned Athlete's Brand apparel to show support for organizations such as; The Crohn's & Colitis Foundation of America,  The Pat Tilman Foundation, The Wounded Warrior Project and The Lone Survivor Foundation. "We call it 'Shirts for a Cause.' Athletes approach us or we get in contact with them. We talk with them and build a relationship. We ask what moves them. We want to show young people and adults that anything is possible," said Ellsbury.
Most recently Athletes Brand has partnered with Texas Rangers pitcher Jake Diekman to raise over ten-thousand dollars for the Crohn's & Colitis Foundation of America. Diekman suffers from ulcerative colitis and wanted to bring exposure to the disease. Athlete's Brand worked closely with him to design the "Gut it out" tee shirt. The design was inspired by a tattoo on his wrist.
"The guys that we work with don't make any money. They are doing this out of the kindness of their hearts to bring awareness. Money goes but it's the awareness that matters. The giving back aspect is really what got me to hop on Athletes Brand", said Ellsbury.
Another cause that is close to Ellsbury's heart is reaching out to Native People. Being a member of the Colorado River Indian Tribe, he wants to partner with a Native American charity to increase Diabetes awareness. Ellsbury already has his next "Shirt for a Cause" idea, "In March, when we launched Athletes Brand, we did a label re-branding where we implemented a feather. The feather for us at Athletes Brand symbolizes family. As athletes we all come from one feather. For me personally the feather represents us all sticking together. It represents my Native American heritage as well. Now all of our Athletes Brand shirts incorporate the feather in some way."
The incorporation of the feather is one subtle way Athlete's Brand will continue to bring awareness to Native American issues. Ellsbury also would like to see more Native baseball players,
"I want to bring baseball back loud and proud to all of the reservations. At Athletes Brand we would also like to build or host a Native American baseball team. I'm very proud of my Native American background." – Spencer Ellsbury
Ellsbury remains inspired by the Native athletes he's seen in the media and hopes to connect with more down the road, "I see all these Native athletes excelling in not just sports but also academics to make a better life for themselves and their families. That's great. They are really helping out their families and communities. We started Athletes Brand for the same reason. We want to make better communities for a better world."
He hopes to reach out to Native athletes like the Schimmel sisters and Bronson Koenig to continue to increase awareness. Until then there's one Native American superstar that's always willing to lend a hand, "Jacoby has been super supportive. Just being able to bounce Ideas off him. We're working on a shirt for the MLB right now and he will help get us in contact with other players to get their opinions. He has a great business mentality. I can come to him with an idea and he will give me his honest opinion. He wants to do anything and everything he can to support me."
Athletes brand will continue to grow on the back of positive contributions to society. Ellsbury is excited to see more of his fellow Natives wearing the brand, "I love being able to give back. It's amazing all of the Native American communities that support me. I even get emails here and there asking, 'Do you have Indian sizes?" He will always hold true to the mantra, "Natives are birthed of one feather and they stick together." So check out athletesbrand.com. Yes, they do have "Indian sizes."