NASCAR Diversity Program Still Going Strong 10 Years Later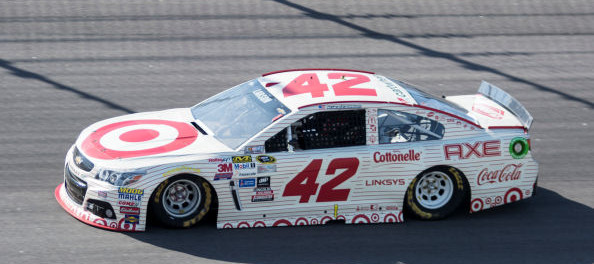 By Tyler Jones
@TylerJonesLive
Gentlemen, start your engines…
The popular slogan itself is the voice of racing. For years, that has been the command to signify that it is time to roll, but things have changed. While some might view the sports as being white man driven, over time, that type of thinking has become an ignorant state of mine.
In 2004, NASCAR instituted a Drive for Diversity program with one goal in mind. Their mission is simple: to engage women and people of diverse, ethnic and racial backgrounds in all facets of the NASCAR industry.
The program has been around for ten year and has seen results. The main goal is to increase minority and female participation in the sport. African-American Bill Lester made his Sprint Cup debut in 2006 and is now racing in the Rolex Grand Am Series.
A fellow African-American, Bubba Wallace has been moving on up in the sport. This season, Wallace went full-time in the NASCAR Xfinity Series, NASCAR's second tier division. Wallace also has five wins in the NASCAR Camping World Truck Series.
One of the more notable names in the program is Kyle Larson. While most know Larson from his dirt track days, Larson comes from Japanese-American heritage. Larson has become a household name and won the NASCAR Sprint Cup Series Rookie of the Year Award last season.
Larson has two career wins in the NASCAR Xfinity Series and one win in the Camping World Truck Series. Larson is still looking for his first career win in the Sprint Cup Series, NASCAR's top division.
Larson spoke to NDNSports and said, "It is neat to reach a diverse audience. It means a lot to me to see people watch the sport, that may not otherwise."
In 2012, Cuban-American Aric Almirola earned a ride with Richard Petty Motorsports. Almirola was given the task of bringing the famed 43 (which Petty won seven titles and 200 races) back to victory circle. In 2014, 30 years to the day to Petty's last win in the 43 car, Almirola fulfilled that goal and won the Coke Zero 400 at Daytona. By doing so, Almirola became the first Cuban to win a NASCAR sanctioned event, and was also apart of last season's Chase for the Sprint Cup.
Native Americans have had a presence in the sport. Matt Kobyluck, a member of the Mohegan Tribe, won the 2008 NASCAR K&N East Series title. Also in 2004, Cory Witherill became the first and only full-blooded American to race in a professional stock-car event. Witherill (Navajo) raced in the ARCA Racing Series, a NASCAR partnered series.
In NASCAR's three top series, there are four active female drivers, including Danica Patrick.
The presence of females have gained huge momentum. Danica Patrick made the move full-time to NASCAR in 2012.
Patrick set the record for the best finish for a female in a NASCAR Sprint Cup Series event and the Daytona 500. Patrick recorded an 8th place finish at Daytona in 2013 and a 6th place finish at Atlanta in August of 2014.
In 2015, Patrick tied the record for most top-10 finishes by a woman. This season, Patrick also became the first-ever woman to start 100 NASCAR Sprint Cup Series races.
The program has been a success and continues to grow. NASCAR's mission to end the stereotype is a trendsetter for other sports to do the same.
—————————————————————————————————————————-
Joey Logano Repeats at Kansas
Logano Wins 2nd Straight Hollywood Casino 400
By Tyler Jones
@TylerJonesLive
KANSAS CITY, KAN- Going into Sunday, it was safe to say that Joey Logano was the clear favorite, and for good reason. Logano was the defending race winner of the Hollywood Casino 400 from a season ago, and was also coming off a victory from a week ago at Charlotte.
Logano lived up to the hype.
Logano and the 22 Team Penske Shell Pennzoil Ford crew came away with their second win of the Contender Round of the Chase. Before Sunday, Logano was already locked into the next round of the Chase, but what happened on Sunday, especially the finish, effected more than Logano.
The race began Sunday with Logano's teammate Brad Keselowski leading the field to green. Keselowski lead the first 28 laps, before surrendering the lead to Kevin Harvick. From there on out though, Keselowski would not find the front of the field again.
In the first 159 laps, the race accounted for four cautions from J.J. Yeley, Tony Stewart, Kyle Larson and Austin Dillion.
On lap 172, Emporia, Kansas native Clint Bowyer saw his day end at his hometrack with an accident on the backstretch. This led to a 40th place finish from Bowyer. Bowyer after the race said he was, "Disappointed and frustrated. You always hate to have something like that happen, especially at home."
On lap 244, Justin Allgaier brought out a caution, which set up an interesting situation. When the restart came, Matt Kenseth and Jimmie Johnson would be up front, with Joey Logano behind them.
After a disappointing 40th place finish at Charlotte last week, Kenseth was desperate for a win to move on to the next round. Kenseth held off Johnson on the restart and was leading with Logano behind him.
As Logano began to close the gap on Kenseth, the block move was put on by Kenseth. With 3 laps remaining, Logano collided with Kenseth from behind to bring out the final caution of the race. This led to a Green-White-Checkered Finish.
Logano would be leading on the restart with Denny Hamlin behind him. Hamlin did not have enough to catch Logano, and Logano picked up his second straight Hollywood Casino 400 victory.
Kenseth would end up finishing 14th and after the race spoke about the incident with Logano and said, "It was really cut and dry, he (Joey Logano) picked my rear tires off the ground and wrecked me so there's no debate about that one."
Logano spoke on the accident and said, "It was hard racing. We ran each other hard. He ran me hard and I ran him hard back. That's the type of driver I am and the type of racer I'm gonna be."
With the second place finish for Hamlin, he was pretty pleased after previous struggles at the track, "It was an interesting day for sure. I would have taken second (at Kansas) and ran with it before this weekend started."
Sunday was also Jeff Gordon's final race at Kansas Speedway. Gordon, a three-time winner at the track said, "Ah it is good to be back. This is a fun race track. I love racing here." In his final appearance at the speedway, Gordon finished 10th.
Not only did Logano pick up his second win of the round, but it was his fifth win of the year. Logano said, "What a fast race again. It's always that time to find that next level as a driver and find that next little piece to get a little bit more speed out of the car, and I was able to race hard and get back to the lead and be able to win."
Next year, NASCAR returns to Kansas in the spring and fall with official dates to be announced.
The final race of the Contender Round is next week at Talladega. The race can be seen live at 1:30pm CST on NBCSN.