NAIA MVP Preston Wynne Inspires Native Americans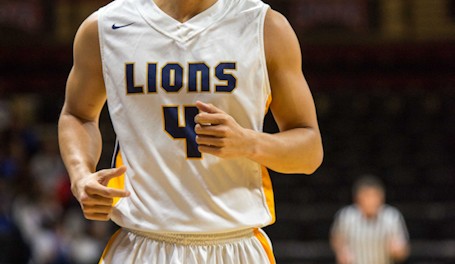 Wynne shoots lights out in tournament play, as he leads Vanguard University to first Men's Basketball Championship.
by Charlie Perry,
Working construction on the Spokane Reservation of Washington, Preston Wynne knew he wanted more out of life. Wanting to focus on his education he decided to give college a try by enrolling at the Spokane Community tribal college. Two years later he would leave the university as the all-time leading scorer, putting up 1228 points in only two years of play. Only four years prior Preston had no idea where his life would take him, "I was jumping around in Native American tournaments, having a blast with my friends," Those tournaments helped prepare Wynne for the biggest test of his life.
Wynne transferred to Vanguard University in Costa Mesa California where he quickly became the Lions leading scorer in his junior year. The Lions qualified for the National Association of Intercollegiate Athletics (NAIA) in Wynne's senior year for the first time since 2005, as Wynne helped lead the Lions to a 27-6 record, which landed them a six seed.
Vanguard was viewed as an underdog in the majority of their games with most thinking that they were too small and skinny to compete with the bigger teams of the conference. Wynne would help prove them wrong as he scored 133 points in three games, averaging 26.6 per game along the way. Wynne's best game came in the semifinals as he made 14 of 19 from the field, including 6 three point shots, scoring a tournament high 42 points over Saint Gregory's University, "I just had a confident focus in myself and my team to trust that I could go out and do what I could do, we got out there and just had fun."
The Lions went on to their first NAIA Championship appearance taking on a much larger Emmanuel University team that played them tough, holding Wynne to 7 of 24 shooting for the contest. He made up for missed shots by playing a stifling defense and controlling the game as he built up his teammates who gladly rose to the challenge,  I shot exactly the same shots I shot (Monday) night, but they just weren't hitting today," Wynne said. "I kept shooting. I have 100 percent confidence that every one of my shots is going to go in. Sometimes they fall; sometimes they don't."
The Lions held off Emmanuel 70-65, Wynne was voted the Most Valuable Player of the tournament becoming the first Native American to receive that honor. He was also voted the MVP of the Golden State Athletic Conference due to his amazing ability to shoot the ball from long range and his will to win, "It has not sunk in yet; I think it's going to take a couple days. Right now just getting this win with this group of guys, I have no words for it right now, it's just amazing."
Preston Wynne had some advice along the way for young Native Americans across the country, "I want to show that everybody can do this, there are way better players than me on every rez, and I just want to show them how easy it is just to go and do it, it's so simple, I wish everyone the opportunity to do what I do, they just have to get off the reservation and do it. I hope this run just opens doors, that's my biggest thing. Everyone just follows this and I want them to know it's doable.
Preston Wynne's story just goes to show that anything is possible if you stay dedicated and continue to overcome adversity. Native American's can take pride knowing that we have the abilities to do anything.
Charlie Perry is a staff writer for the Indian Leader and a contributing writer for NDNsports.com. He can be reached at cperry52@rocketmail.com.