Montana Tech Volleyball Announces the signing of Courtney Bad Bear (Crow) to NAIA letter of intent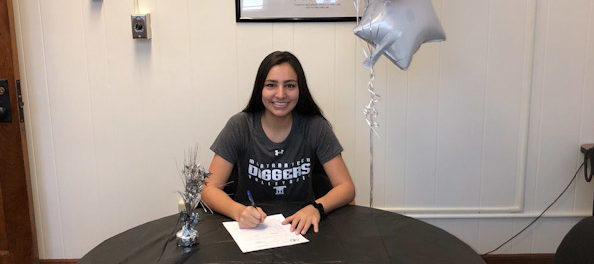 BUTTE, Mont. – Montana Tech head volleyball coach Brian Solomon announced the signing  Montana student-athlete Courtney Bad Bear (Crow Tribe) to a NAIA letter of intent.
"We are thrilled to add such a great in-state class of athletes," said head coach Solomon.
"Courtney, Zoe and Portia have had great success including state-championship runs, played in big games and are all very coachable. Tech is going to be a great place for them to achieve their academic goals and I can't wait for them to join us on the court and in the community."
Bad Bear, a 5-foot-8 setter from Billings, played four years of varsity for perennial AA power Billings Senior High School. The Broncs were state champion runner-ups the last two years and finished third Bad Bear's sophomore season. As a freshman, the Broncs were state champions. Bad Bear finished with a 93-9 high school record.
Starting her final two seasons, Bad Bear was All-State honorable mention as a junior and second team All-State as a senior. Bad Bear was second in the state in assists last fall with 430, 10th in digs (183) and 9th in blocks (31). She was named Academic All-State the last two years.
Volleyball is not the only court sport for the athletic Bad Bear. She is a three year varsity starter on the basketball court and has been a captain the last two seasons.
Bad Bear is the daughter of Nadia and Curtis.