Junior Tiana Dockery (Navajo) Returns To (22) Kansas Jayhawk Volleyball looking to improve on last season's Sweet 16 Run.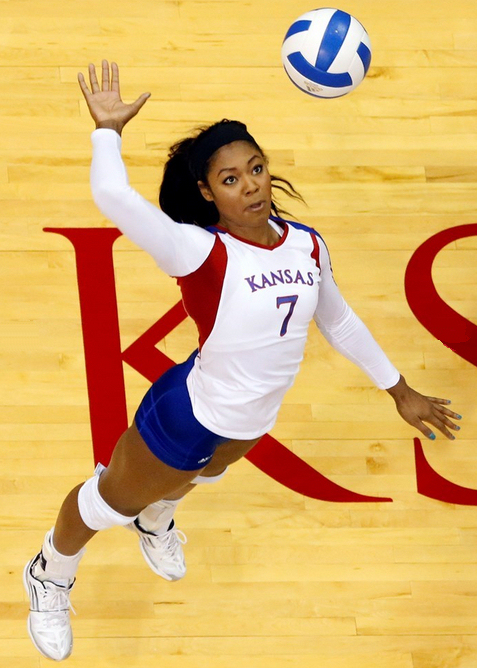 The Jayhawks return three upperclassmen outside hitters that will help mentor eleven underclassmen.
By Charlie Perry, @CharlieHPerry

Lawrence Kansas- Junior outside hitter Tiana Dockery (Navajo) returns to the 22nd ranked Kansas Jayhawks Volleyball team as one of only three upper classmen. Alongside Seniors Chelsea Albers (OH) and Sara McClinton (OH) Kansas Volleyball's "Big Three"  hope to lead the Jayhawks to a Big 12 Championship and improve on a 2014 Sweet 16  NCAA tournament appearance. Dockery coming off  a last season high of 21 kills at Wisconsin and an overall 196 kills and 81 digs on the season hopes to continue to improve, "  My teammates and I made an agreement, we did well last season but now we need to take it up a notch it's time to ride or die for one another. It's time to go all out.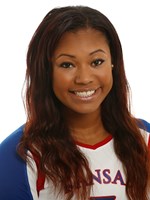 Head Coach Ray Bechard has seen signs of Dockery going all out when it comes to being a leader and inspiration for her teammates. "Tiana played some really key moments last year. She will stop practice and tell the team this is what we need to get done, her voice really resonates. She's a leader and we think that her momentum from last year is going to carry over for a great junior season."
Dockery is from Richmond Texas and has been playing Volleyball her entire life. She is of mixed decent consisting of African American roots with a rich Navajo ancestry. When asked what impacts she wants to leave on the Native American community Dockery said, "It really great to have  a part set aside in me that's Native, I embrace it which I feel sometimes goes under the radar. I want to be a role model to others weather they are Native American or African American."
Kansas will open the season at home against Utah Valley at 11:30 A.M. Coach Bechard expects a balanced opponent, "Utah Valley is going to be in the top two or three in their league." However most Jayhawk volleyball fans are looking towards October 5th where Kansas will take on the number 2 ranked Texas Longhorns. "Everyone's chasing Texas, said Bechard. They have a chance once again to advance deep into postseason, and I know he feels, coach (Jerritt) Elliot, that he has a team that can win a national championship."  Tickets for these games or any other home volley ball games are available for sale at KUAthletics.com
Charlie Perry is the Editor of the Haskell Indian Leader newspaper and contributing writer for NDNsports.com. Charlie can be reached via twitter @CharlieHPerry or by email cperry52@rocketmail.com