James Winchester (Choctaw) Receives Inspiration & Support After Loss of His Father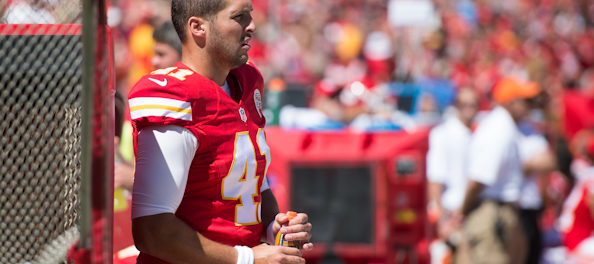 By Tyler Jones
@TylerJonesLive
KANSAS CITY, MO- The Chiefs are 10-3 on the year and have fought a lot of battles on the football field this year, but off the field, the fight hasn't stopped.
On November 15th, Chiefs long snapper James Winchester's father, Michael died after being shot near an employee parking lot of Will Rogers Airport in Oklahoma City. Michael Winchester had just finished his shift, working for Southwest Airlines, when he was shot on his way home. Police identified the gunman as Lloyd Dean Buie and he was found dead in his pickup.truck.
The Chiefs organization and Head Coach Andy Reid gave their full-support to James Winchester after his father's death, giving him a leave of absence to be with his family. Within days, James had already returned to the team and played on November 19th against Tampa Bay.
Throughout this time, James has not missed an entire snap and has allowed football to be an escape from this harsh reality. Winchester says, "We've never been through a tragedy like this, losing a loved one and a parent. For us, (football) has offered some healing, just getting away and staying busy."
He went on to say, "To be out here and continue to play, just like dad would want me to do and honor him in any way that I can. He taught us how to work hard and go out and do your best every single day"
Since his father's passing, James has not let his father down on his promise to honor him on the field. Every single one of Winchester's snap have been nearly perfect.  
In a critical game against the Denver Broncos on November 27th, James raced down the field and recovered a muffed punt by Broncos return man Jordan Norwood, a moment that changed the game. The Chiefs would go on to win that game in overtime and are currently leading the AFC West standings.
James said the support he has received from the Chiefs Kingdom, Southwest Airlines, the City of Kansas City and his family back home has been incredible. When talking about those who have reached out, James said, "It has been a tough time for us and it will be moving forward, but we've been very blessed. It's been very overwhelming, but God has been great to us"
The late Michael Winchester was a former punter for the Oklahoma Sooners, apart of the 1985 National Championship team. On December 2nd, the Sooners hosted Oklahoma State for Bedlam and Michael was honored. James was in attendance, along with his mother Julie and 18 other family members.
The Sooners partnered with Southwest Airlines with a special flyover, from a Southwest Airlines Boeing 737, prior to the game. James spoke on the event and said, "OU Athletics is family. Joe Castiglone (Oklahoma Athletic Director) did an incredible job helping us out and honoring our father. That was dad. He was OU Football and Southwest Airlines. It was incredibly special, what a great tribute to a great man."