James Winchester (Choctaw Nation) Working Hard to Make the Final Roster for the Kansas City Chiefs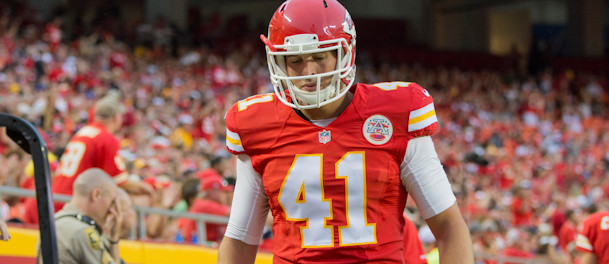 By Tyler Jones, @tylerjoneslive
James Winchester has been an Okie his whole life, growing up in Washington, Oklahoma, he went on to be a member of the Oklahoma Sooner football team and is also apart of the Choctaw Nation of Oklahoma.
In 2010 and 2011, Winchester started at long snapper on teams that went to the Fiesta Bowl and Insight Bowl under Oklahoma Head Coach Bob Stoops.
By 2012, Winchester graduated from the University of Oklahoma, but his football playing career was put on hold. Winchester went undrafted in 2012, tried out for the Philadelphia Eagles, but never got his chance to play in the league. Recently, that all changed.
This off-season, Winchester joined the Kansas City Chiefs squad with a chance to compete for the starting long snapper position. His dream to play in the league was still alive.
On Friday night in the preseason home-opener for the Chiefs, Winchester was given the chance to start and play the entire first half at long snapper. He described his Arrowhead Stadium debut by saying,
"It felt pretty good. There's always things we can work on. Had a couple of low snaps, but Dustin (Colquitt) hit the ball really good. Now it's just about going back to practice and keep getting better."
For the first time in his playing career, Winchester is calling somewhere outside of Oklahoma home, but he's okay with that, "It feels right at home. Right up the road from home. The whole locker room is full of great guys."
Although Winchester is no longer in crimson and creme, he is playing alongside some fellow former Sooners, "We got Donald (Stephenson) and Jamelle (Fleming), both of them in this locker room. It's pretty neat. The last time I was in this locker room, it was seven years ago and we were playing in the Big 12 Championship. To be back at Arrowhead is pretty special."
With a few weeks left in training camp, Winchester still finds himself in a battle for the roster spot at long snapper. Winchester said on fighting for the spot, "That it's just about getting better. Continuing to get in the film room and learn. I don't make the decisions, so I don't really worry about it. I do all I can control and let the rest take care of itself."
Winchester made his presence known on Friday, snapping two punts and a PAT. He'll get another shot at home next week against the Titans, before the preseason finale at St. Louis.     
Kansas City Impresses in Preseason Home Opener
After eight months of waiting, Chiefs fans could rejoice as football returned to Arrowhead on Friday night. The Chiefs would be hosting their preseason opener against the reigning NFC Champion Seattle Seahawks.
The Seahawks entered Friday with an 0-1 record to begin the preseason, after falling to the Broncos last week. Since their last matchup against Denver, Seattle had made only one roster change, dropping Long Snapper Nate Boyer for Quarterback Jake Waters.
For Kansas City, they came into Friday night's contest with momentum, after a 34-19 win over the Arizona Cardinals last week. The Chief's roster was unchanged from a week ago.
In the matchup between Seattle and Kansas City, both teams sat out notable players due to injury. The Seahawks' own Richard Sherman (Native American, Tribe Unknown), Earl Thomas, Tarvaris Jackson and 16 others would be out for the matchup.
Kansas City's inactives included Tyler Bray (Citizen Band-Potawatomi), De'Anthony Thomas, Eric Fisher and nine others.
In the first quarter, each team was held scoreless. For the first time though, Kansas City fans would witness Missouri-alum Jeremy Maclin catching a pass from Alex Smith, as well as an eight yard carry at Arrowhead.
Later on in the second quarter, the Chiefs would strike first, with a three-yard touchdown pass from Smith to Maclin. Smith did not throw a touchdown pass to a wideout in the entire 2014 regular season.
Seattle would respond though, getting on the board with a 39-yard field goal from Steven Hauschka, after a 14 play, 59 yard drive.
Shortly after Kansas City took over on offense, Seahawk linebacker Bobby Wagner picked off a pass from Alex Smith, intended for Jason Avant. The interception resulted in a 25-yard return, putting Seattle on top 10-7 at the half.
At the start of the second half, the subs were in for both squads, including Chase Daniel. Daniel had a strong showing against Arizona last week, which led many to be excited to see him in his home-debut for 2015.
Daniel came out in the third quarter firing, leading Kansas City on an opening drive touchdown, with a 1-yard touchdown pass to James O'Shaughnessy.
By the end of the third, it was anyone's ball game. Seattle's Steven Hauschka made his second field-goal attempt of the game at the 10:48 mark, with a 27-yard kick. Making it a 14-13 Kansas City lead going into the final quarter.
In the fourth quarter, both teams were separated in time of possession by just two seconds, but neither team scored. In the end, Kansas City would hang on, to defeated Seattle 14-13.
Chase Daniel had the highest completion percentage for the Chiefs at 75.8%, followed by 60.7% from Alex Smith.
Safety Eric Berry returned home to Kansas City for the first time since he defeated his battle with cancer. Berry said on returning to Arrowhead, "It was definitely (emotional) just because just the ride through the stadium – up to the stadium – smelling the barbecue, seeing the fans out there waving. I made sure my windows were rolled down so I could just take it all in."
Charcandrick West led the team in rushing with 89 yards, followed by 52 yards from Knile Davis and 40 yards rushing from Darrin Reaves. Fred Williams led Kansas City in receiving with eight catches, 97 yards and a touchdown.
For Seattle, Russell WIlson (Native American) had the highest completion percentage at 62.5%, but R.J. Archer threw for the most yards with 193. Despite the loss, Wilson was still pleased with his team, "You have to be able to step up and communicate and function really well. I thought we did a tremendous job of that. Go Hawks."
Thomas Rawis led Seattle in rushing with 51 yards, followed by 42 yards from Christine Michael. B.J. Daniels led the Seahawks in receiving with five catches for 34 yards.
Seattle falls to 0-2 in the 2015 preseason. The Seahawks have one more road game against San Diego, before the finish the preseason at home against the Raiders.
The Chiefs advance to 2-0 in the preseason. They'll host the Titans next week, before they wrap up the preseason in St. Louis in a battle for the Governor's Cup against the Rams.