Ho-Chunk Nations Bronson Koenig Takes on New Leadership Role with the Wisconsin Badgers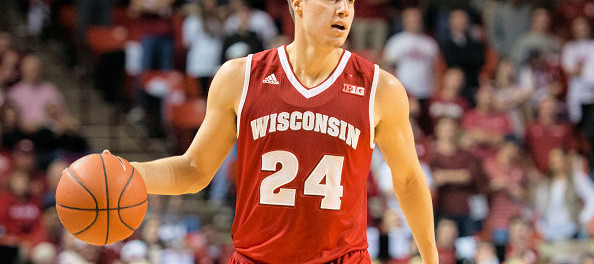 By Tyler Jones
@TylerJonesLive
The last two seasons of Wisconsin Basketball have been a dream for the Badger faithful. Going into their 2015-16 campaign, the Badgers are coming off of back-to-back Final Four appearances, including a win against an undefeated Kentucky team last season.
Those teams were led by National Player of the Year Frank Kaminsky and NBA 1st Round Draft Pick Sam Dekker. Playing alongside those guys though, was LaCrosse Native Bronson Koenig, who was waiting for his chance.
Midway through last season, Koenig (Ho-Chunk Nation) took over the starting point guard role and the Badgers didn't miss a beat, winning the Big Ten Championship and cruising on the road to the Final Four.
This season, with Kaminsky and Dekker gone, Koenig finds himself taking on a bigger role with the team on and off the court. Koenig not only returns as the team's starting point guard, but also finds himself in a veteran leadership role as one of the upperclassman.
On the court, Koenig has had to adapt with his offensive game. Koenig's point totals for the season have nearly doubled. In 2014-15, Koenig averaged 8.7 PPG, but this season, he's up to 16.1 PPG. Koenig says, "It's definitely been an adjustment picking and choosing times I need to be aggressive, looking for my own shots and getting my teammates involved."
Off the court, Koenig's veteran experience is paying off. This season, the Badgers have 12 underclassmen on their roster, and Koenig is aware of what he needs to do to help the young guys out, "I need to do a better job and take it upon myself to help those young guys out and be a better leader."
As the face of basketball for Native Americans, Koenig has embraced the role. Typically on the road, you'll find Native Americans of different tribes in the crowd, cheering on Koenig.
Koenig's mother, Ethel Funmaker said, "He is really proud of his heritage. He's making history for all Native Americans at this point and in the future." Funmaker went on to say, "At this point in time, he is a trendsetter."   
At this point of the year, Koenig's Badgers are off to a slow start at 4-3. Going forward, Koenig says, "We're going to review the film and shore up the little things, and that will give us a much greater chance of coming out of here with W's."
Sooners Dominate Wisconsin from Start to Finish
NORMAN, OKLA- The 7th ranked Oklahoma Sooners caught the Wisconsin Badgers taking a casual weekend nap on Sunday afternoon. The Sooners helped improve their RPI with the win over a team that was coming off of two straight Final Four appearances. 
Sooners Head Coach Lon Kruger was very pleased with how things turned out saying, "It was a good early season ball game. Wisconsin's a terrific program. I thought our guys opened the game very aggressively, made some shots and created a margin early which we played with throughout the game."
The two teams had met a year ago in the Bahamas, with Wisconsin coming out on top. Sunday's contest though was a completely different story, with the Badgers only leading for just thirty seconds of the game.
When asked about the rematch with the Sooners, Wisconsin Head Coach Bo Ryan said, "(They're the) Same team (Oklahoma) because they have 80 percent of their guys still here. They haven't changed much. We have changed a lot."  
Oklahoma came out firing in the first half. Sooners Forward Ryan Spangler was feeling from the beginning, "I shot this morning and it felt pretty good. As a basketball player, you can feel when your shot is feeling good. Coach (Kruger) always tells me that if I'm open to knock down that first look to gain confidence for the rest of the game, and that's what I did today."
Spangler jolted the Sooners' quick start with 10 points in the first 7:13 of the half. The Sooners opened up on a 23-6 run from the 18:54 mark to 7:09 left in the half.
Wisconsin was held to just 19.4% shooting from field goal range for the half, while the Sooners shot an impressive 42.9% from the field. Oklahoma led at the half 34-19.
The shooting struggles continued in the second half for the Badgers. For the half, Wisconsin was held to 27%, while it was more of the same for Oklahoma, as the Sooners shot 42.3% for the half.
Wisconsin struggled to get the lead close, and Badgers Guard Bronson Koenig was not happy about it, "It was very frustrating. We just need to focus on the little things like not trying to block shots while our guys are getting offensive rebounds. That killed us on the offensive boards."  
Niguel Hayes of Wisconsin provided a spark on offense with 15 points and 8 rebounds for the half, but the Badgers were still outscored by Oklahoma 31-29 in the second. Oklahoma would go on to win 65-48.
Hayes explained his team sub-par performance saying, "Sometimes the ball doesn't go in. We're not perfect shooters out there, no one is. Some shooters are better than other shooters. Collectively, we had a bad night as a team."
Spangler dominated inside for Oklahoma, managing a double-double with 20 points and 14 rebounds. The Sooners also found offense from Guard Isaiah Cousins, who had 14 points. Preseason All-American and reigning Big 12 Player of the Year Buddy Hield wasn't asked to do much, as he finished the game with just 12 points and 5 rebounds.
The stat sheet presented a good representation of Wisconsin's struggled. The Badgers were held to just 23.5% shooting from the field and went 7-33 from 3-point range. Nigel Hayes led Wisconsin in scoring with 20 points, as well as 11 rebounds. Koenig was second in scoring for the Badgers with 9 points and was 3-18 from the field. Koenig struggled from 3-point range, going 3-14 from downtown.
Next Up
After the loss, Wisconsin drops to 4-3 on the year. The Badgers will move on to their matchup at Syracuse on Wednesday in the Big Ten/ACC Challenge.
With the win, the Sooners remain undefeated at 4-0. Oklahoma will host Central Arkansas at home on Thursday.